Downside Nurseries – The Gardener's Nursery near Bradford on Avon
THE NURSERY REMAINS CLOSED
Our home delivery service is proving popular but we cannot offer a 'click and collect' service. Please read our latest newsletter here, and return to this our home page for updated information. Thank you.
NB: We will be closed on Sundays and therefore not able to take telephone orders. Open Monday to Saturday 0900-1700 for these. We need a day away from the orders to catch up! Thank you for your understanding.
Stay safe and enjoy your gardens.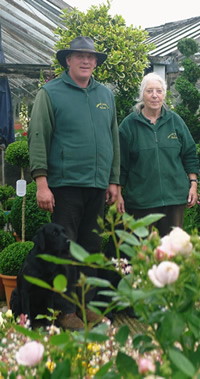 We're a traditional family-run retail working nursery set in over three acres situated in Upper Westwood, between Bradford on Avon, in West Wiltshire and Iford and Freshford near Bath. 
Thank you for visiting our website – we hope you find it helpful and informative.
We supply Private Gardeners, Landscapers and Architects in Bath, Wiltshire and Swindon and surrounding counties with an unrivalled choice of quality plants, trees and bedding stock much of which is grown on-site.
The Young family have been running Downside Nurseries for 50 years and have earned an enviable reputation for being "The Gardener's Nursery". The image shows mother and son Lorraine and Richard Young. 
More than 3,000 herbaceous perennials, trees and shrubs from which to choose
Our aim is to supply you with a choice of the finest quality plants from more than 3000 varieties of herbaceous perennials, trees and shrubs that will thrive in your garden. We offer a larger range of plants and trees (specimen sizes) than you'd generally find at garden centres. Our selection includes:
Seasonal and Special Occasions

If you are looking for the best seasonal and special occasion flowers and shrubs of the highest quality you need look no further than Downside Nurseries. Whether you want to plant up a completely new garden, a border, or container for your patio, we'll have just the right plants for you.
And if your scheme is 'large' and you'll need hundreds of plants, please let us know ahead.  If you need cutting material please let us know by the previous September, and seed-raised material by January at the latest.
Bringing You The Latest Varieties
Here at Downside, we regularly trial new varieties, testing for garden performance and disease resistance.  Sometimes you can find a new variety of plant here well before it becomes generally available!
Supplying Garden Landscapers
Professional landscapers are invited to register with us for a trade discount card.
We are happy to support landscapers with quality plants for show gardens and trade stands at national events, eg Chelsea, Hampton Court and Malvern. Many of the varieties featured at Chelsea and other national shows are seasonably available at Downside Nurseries. You may like to visit our Local Landscapers page.
Cookies
This site uses cookies. By continuing to browse the site you are agreeing to our use of cookies. Find out more here