About Downside Nurseries
Finding Downside Nurseries – "a lovely, quiet spot in the country"
Finding Downside Nurseries and full details of where we are may be found on the 'contact' page.
When you arrive at Downside for the first time please bear in mind that, because we grow most of our own plants, this dictates how our nursery is displayed. We have given a guide to each type of plant location on the website which you may find helpful.
For example, we have:
the shrub area is outside on the right of the second set of polytunnels;
evergreens are under the netting in the second set of polytunnels;
herbaceous generally are found in the second tunnel, Bays 12-16;
roses and fruit selections are in the standing-out ground before the glasshouses;
annuals in the glasshouses and outside;
trees are around the yard and outside in the growing beds beyond the polytunnels.
We have a guide to help find your way around. Please view it here on our website, or pick up a copy on your arrival (providing they haven't all disappeared!). Please return it after your visit!
We offer a cash and carry style service. On your visit, please collect a trolley and have a look around, picking up the plants you want straight from the growing beds. If you require any assistance with heavy items, such as trees, or large pot specimen shrubs, just find a member of staff and we shall be more than happy to help you.
We accept the majority of major debit and credit cards for payment (not Amex).
If your items won't fit into your car, then we will deliver them to you. We deliver to the local area, up to 20 miles away. Delivery charges are quoted on an individual basis. Please speak to a member of our staff.
We will try to help you with queries on our plants, eg what would grow in a shady position. However, for help with planting layouts and colour schemes, we would suggest you contact a landscape gardener. Please click here for details of some who use our Nursery.
Wiltshire, Bath and across the borders
We welcome our customers to our Nurseries from Wiltshire, Bath and across the borders. Locally of course across Wiltshire from Malmesbury, through Calne, Swindon and Devizes down to Mere and from Glastonbury, Street, Wells, Frome and Taunton in Somerset, up through Bristol, Chipping Sodbury, Gloucester and Bath with all its outlying villages. Our most 'far flung' customer currently lives in Scotland and we have supplied plants which are now in holiday homes in Europe. Let us know if you are further away!
Downside's Own Gift Vouchers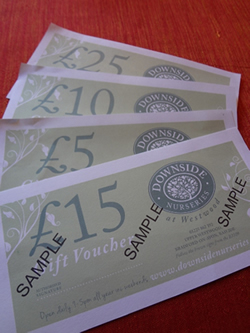 Our gift vouchers are available in denominations of £5, £10, £15, £20 and £25.
They make a lovely gift for Mothering Sunday, Easter, Birthdays, Christmas, Anniversaries, office leaving gifts etc.
Please note that these vouchers may only be used at Downside Nurseries and are not part of any national scheme.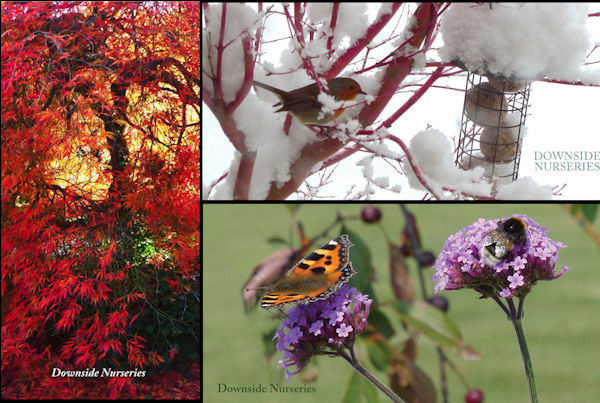 Downside Nurseries – not a Garden Centre
Plants and colours come and go out of fashion, but there is one thing that will never change – the need for quality products. You will not be disappointed here at Downside with your quest for the very best quality and choice of plants which accounts for 95% of our sales. But, being a working nursery, we don't have the coffee shop, pet food area, tools, seasonal decorations etc. However, instead we have the wonderful Peto Gardens at Iford Manor and the National Trust's Westwood Manor on our doorstep! Please see our 'local attractions' tab for details of coffee shops and other local information.
Downside Photography
We would like to say thank you to Downside team member Christina Cornish for taking many of the pictures on the website.