Herbaceous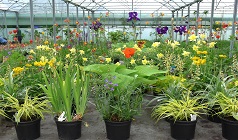 These hardy varied and versatile plants are our speciality. We stock over 750 varieties from old favourites to the latest introductions and are always on the look-out for new and interesting plants to add to our range.
Hardy, varied and versatile, herbaceous perennials are available all year round and we are continually replenishing our stock. The widest choice is available in April to May.
These include many of your favourites such as salvia, penstemon, heuchera, euphorbia, hellebores and well-established specimen sizes of lupins and delphiniums.
We have a separate section for Bamboos, Ferns and Grasses, please see here.
To see the list of herbaceous perennials that we have in stock at the beginning of the season, please see the list below; this does not, however, guarantee availability.
Location: Our herbaceous plants are generally found in the second tunnel, generally Bays 12-16
If you'd like to download an Excel of this page, please click here
| | | | |
| --- | --- | --- | --- |
| Genus | Species | Variety | Pot Size |
| Acanthus | mollis | | 3L |
| Acanthus | spinosus | | 10L |
| Achillea | millefolium | Cassis | 2L |
| Achillea | | Moondust | 2L |
| Achillea | | Moonshine | 2L |
| Achillea | | Pretty Belinda | 2L |
| Achillea | | Red Velvet | 2L |
| Achillea | | Terracotta | 2L |
| Aconitum | napellus | Album | 2L |
| Aconitum | napellus | | 2L |
| Adenophora | liliifolia | | 2L |
| Aeonium | | Zwarkop | 2L |
| Agapanthus | | Arctic Star | 2L |
| Agapanthus | | Arctic Star | 5L |
| Agapanthus | | Cambridge | 5L |
| Agapanthus | | Castle of May | 2L |
| Agapanthus | | Icicles | 2L |
| Agapanthus | | Lapis Lazuli | 2L |
| Agapanthus | | Lapis Lazuli | 5L |
| Agapanthus | | Navy Blue | 2L |
| Agapanthus | | Northern Star | 2L |
| Agastache | | Red Fortune | 2L |
| Agave | americana | Aureomarginata | 3L |
| Agave | americana | | 3L |
| Ajuga | reptans | Arctic Fox | 9k |
| Ajuga | reptans | Burgundy Glow | 9k |
| Ajuga | reptans | Catlin's Giant | 2L |
| Ajuga | reptans | Golden Beauty | 9k |
| Alcea | ficifolia | Las Vegas Hybrids(Single) | 3L |
| Alcea | ficifolia | Wheeldon's Red | 3L |
| Alcea | rosea | Black Knight(Nigra) | 3L |
| Alcea | rosea | Mars Magic | 3L |
| Alcea | rosea | Polestar | 3L |
| Alcea | rosea | Sunshine | 3L |
| Alchemilla | mollis | | 2L |
| Allium | bulgaricum | See Nectaroscordum | 2L |
| Allium | cernum | | 1L |
| Allium | christophii | | 2L |
| Allium | shubertii | | 2L |
| Allium | spherocephalon | | 2L |
| Allium | | Eros | 1.5L |
| Allium | | Firmament | 1.5L |
| Allium | | Globemaster | 2L |
| Allium | | Millennium | 2L |
| Allium | | Mount Everest | 2L |
| Allium | | Mount Everest | 2L |
| Alstroemeria | | Indian Summer | 2L |
| Alstroemeria | | Inticacha Dark Purple | 5L |
| Alstroemeria | | Inticancha Cabana | 5L |
| Alstroemeria | | Inticancha Indigo | 5L |
| Alstroemeria | | Inticancha Indigo | 2L |
| Alstroemeria | | Inticancha Maya | 5L |
| Alstroemeria | | Inticancha Red | 5L |
| Alstroemeria | | Inticancha Red | 2L |
| Alstroemeria | | Inticancha Sunshine | 2L |
| Alstroemeria | | Mars | 2L |
| Alstroemeria | | Summer Relieve | 2L |
| Alstroemeria | | Summer Saint | 2L |
| Alstroemeria | | Summer Sky | 5L |
| Alstroemeria | | Sweet Laura | 3L |
| Amsonia | orientalis | | 2L |
| Anemone | blanda | Blue | 10B |
| Anemone | blanda | White | 10B |
| Anemone | hybr. | Andrea Atkinson | 2L |
| Anemone | hybr. | Andrea Atkinson | 2L |
| Anemone | hybr. | Carmen | 2L |
| Anemone | hybr. | Honorine Joubert | 2L |
| Anemone | hybr. | Max Vogel | 2L |
| Anemone | hybr. | Prince Heinrich | 2L |
| Anemone | hybr. | Queen Charlotte | 2L |
| Anemone | hybr. | Whirlwind | 2L |
| Anemone | hybr. | Wild Swan | 2L |
| Anemone | sylvestris | | 9k |
| Anemone | sylvestris | | 1.5L |
| Angelica | gigas | | 3L |
| Angelica | pachycarpa | | 3L |
| Angelica | sylvestris | Vicar's Mead | 3L |
| Anthemis | tinctoria | Sauce Hollandaise | 2L |
| Anthriscus | | Ravenswing | 2L |
| Aquilegia | alpina | Cameo Mixed | 9k |
| Aquilegia | vulgaris | Black Barlow | 2L |
| Aquilegia | vulgaris | Granmother's Garden | 2L |
| Aquilegia | vulgaris | Swan Blue/White | 2L |
| Aquilegia | vulgaris | Swan Burgundy/White | 2L |
| Aquilegia | vulgaris | Swan Red/White | 2L |
| Aquilegia | vulgaris | Swan White | 2L |
| Aquilegia | vulgaris | Swan Yellow | 2L |
| Aquilegia | vulgaris | Swan Yellow | 2L |
| Aquilegia | vulgaris | William Guiness | 2L |
| Arabis | caucasia | Pink | 9k |
| Arabis | caucasia | Pixie Cream | 9k |
| Arabis | procumbens | Glacier | 9k |
| Arenaria | montana | | 9k |
| Argyrocytisus | battandieri | | 3L |
| Armeria | maritima | Nifty Thrifty | 9cm |
| Armeria | maritima | Red | 9cm |
| Armeria | maritima | Vesuvius | 9cm |
| Armeria | maritima | White | 9cm |
| Artemesia | canescens | | 3L |
| Artemesia | ludovicana | Valerie Finnis | 2L |
| Aruncus | kneiffii | Guinea Fowl | 2L |
| Astilbe | chinensis | Lovely Day | 3L |
| Astilbe | chinensis | Visions in Red | 3L |
| Astilbe | chinensis | Visions in Red | 7.5L |
| Astilbe | chinensis | Visions in White | 3L |
| Astilbe | chinensis | Visions in White | 7.5L |
| Astilbe | japonica | Ellie | 3L |
| Astilbe | x hybrida | Look at Me | 3L |
| Astilbe | x simplicifola | Pink Lightning | 7.5L |
| Astrantia | major | Claret | 2L |
| Astrantia | major | Florence | 2L |
| Astrantia | major | Hadspen Blood | 2L |
| Astrantia | major | Moulin Rouge | 2L |
| Astrantia | major | Roma | 2L |
| Astrantia | major | Superstar  (White) | 2L |
| Astrantia | major | Venice | 2L |
| Aubretia | deltoidea | Antique Rose | 9k |
| Aubretia | deltoidea | Blaumeise | 9k |
| Aubretia | deltoidea | Blue Beauty(Double) | 9k |
| Aubretia | deltoidea | Bressingham Red | 9k |
| Aubretia | deltoidea | Lavender Lace | 9k |
| Aubretia | deltoidea | Pink Beauty(Double) | 9k |
| Aubretia | deltoidea | Variegata | 9k |
| Aubretia | deltoidea | Westacre Gold | 9k |
| Aurinia | saxatalis | | 9k |
| Ballota | pseudodictamnus | | 2L |
| Baptisia | x hybrida | Blueberry Sundae | 3L |
| Baptisia | x hybrida | Lemon Meringue | 3L |
| Bergenia | | Bach | 3L |
| Bergenia | | Eden's Magic Giant | 10L |
| Bergenia | | Overture | 3L |
| Bergenia | | Spring Fling | 3L |
| Brunnera | macrophylla | Emerald Mist | 2L |
| Brunnera | macrophylla | Looking Glass | 2L |
| Brunnera | macrophylla | Mr Morse | 2L |
| Calocephalus | brownii | Titanium | 10F |
| Camassia | lieichtlinii | Caerulea | 2L |
| Camassia | lieichtlinii | Quamash | 2L |
| Camassia | lieichtlinii | White | 2L |
| Campanula | carpatica | Rapido Blue | 1L |
| Campanula | carpatica | Rapido White | 1L |
| Campanula | garganica | Blue | 9k |
| Campanula | garganica | Dickson's Gold | 9k |
| Campanula | lactiflora | Lodden Anna | 2L |
| Campanula | lactiflora | Pritchard's Variety | 2L |
| Campanula | latiloba | Hidcote Amethyst | 2L |
| Campanula | persicifolia | Blue | 2L |
| Campanula | persicifolia | Blue Bell | 2L |
| Campanula | persicifolia | White Bell | 2L |
| Campanula | portenschlagiana | Sago | 9k |
| Campanula | x hybrida | Purple Sensation | 2L |
| Canna | | mixed | 3L |
| Catananche | caerulea | Alba | 2L |
| Catananche | caerulea | | 2L |
| Centaurea | montana | Blue | 2L |
| Centaurea | montana | Gold Bullion | 2L |
| Centaurea | montana | Jordy | 2L |
| Centranthus | ruber | Alba Pura | 2L |
| Centranthus | ruber | Alba Pura | 2L |
| Centranthus | ruber | coccineus | 2L |
| Cephalaria | gigantea | | 3L |
| Cerastium | tomentosum | | 9k |
| Chamomile | | Double | 9cm |
| Chrysanthemum | | Agnes Ann | 2L |
| Chrysanthemum | | Duchess of Edinburgh | 2L |
| Chrysanthemum | | Nantyderry Sunshine | 2L |
| Cimicifuga | ramosa | Atropurpurea | 2L |
| Cirsium | rivulare | Atropurpureum | 2L |
| Cirsium | rivulare | Atropurpureum | 2L |
| Convallaria | majalis | Lily of the Valley | 2L |
| Coreopsis | verticillata | Zagreb | 2L |
| Coreopsis | verticillata | Zagreb | 7.5L |
| Crambe | cordifola | | 3L |
| Crocosmia | x crocosmifolia | Carnine Brilliant | 2L |
| Crocosmia | x crocosmifolia | Emily Mckenzie | 2L |
| Crocosmia | x crocosmifolia | George Davidson | 2L |
| Crocosmia | x crocosmifolia | Lucifer | 2L |
| Crocosmia | x crocosmifolia | Lucifer | 2L |
| Cyclamen | coum | | 9cm |
| Cyclamen | hederifolium | Pink | 9cm |
| Cyclamen | hederifolium | Silver me White | 9cm |
| Cynara | cardunculis | Cardoon | 3L |
| Cynara | cardunculis | Cardoon | 10L |
| Cynara | scolymus | Artichoke Green Globe | 3L |
| Dahlia | | Birgitta Alida | 3L |
| Dahlia | | Birgitta Alida | TC30 |
| Dahlia | | Bishop of Llandaff | 3L |
| Dahlia | | Bishop of Llandaff | TC30 |
| Dahlia | | Claudette | 3L |
| Dahlia | | Claudette | TC30 |
| Delphinium | grandiflorum | Astolat | 3L |
| Delphinium | grandiflorum | Blue Lace | 3L |
| Delphinium | grandiflorum | Double Innocence | 3L |
| Delphinium | grandiflorum | Dusky Maiden | 3L |
| Delphinium | grandiflorum | Galahad | 3L |
| Delphinium | grandiflorum | Guardian Lavender | 3L |
| Delphinium | grandiflorum | Guardian White | 3L |
| Delphinium | grandiflorum | Mfount Cherry Blossom | 2L |
| Delphinium | grandiflorum | Mfount Sky Blue White Bee | 3L |
| Delphinium | grandiflorum | Mixed | 3L |
| Delphinium | grandiflorum | Morning Lights | 3l |
| Delphinium | grandiflorum | Pagan Purples | 3L |
| Dianthus | Alpine Pink | 18 Varieties | 9cm |
| Dianthus | Alpine Pink | Whetman Early Birds 6 varieties | 9cm |
| Dianthus | barbatus | Monksilver Black | 2L |
| Dianthus | carthusianorum | | 2L |
| Dianthus | deltoides | Microchop | 9k |
| Dianthus | Garden Pink | Beauties Cherry | 1L |
| Dianthus | Garden Pink | Highly scented 11 varieties | 1L |
| Dianthus | Garden Pink | Scent First pot & patio 9 varieties | 1L |
| Dianthus | knapii | Yellow Harmony | 9k |
| DICENTRA | | SEE LAMPROCAPNOS      . | 3L |
| Dicksonia | antarctica | | 7.5L |
| Dicksonia | antarctica | | 15L |
| Dicksonia | antarctica | | 40L |
| Dierama | erectum | | 2L |
| Dierama | pulcherrimum | Blackberry Bells | 2L |
| Dierama | pulcherrimum | Pink Rocket | 2L |
| Digitalis | ferruginea | | 2L |
| Digitalis | ferruginea | | 2L |
| Digitalis | mertonensis | | 2L |
| Digitalis | purpurea | Camelot Dark Purple | 3L |
| Digitalis | purpurea | Camelot Dark Purple | 20L |
| Digitalis | purpurea | Dalmation Creme | 3L |
| Digitalis | purpurea | Dalmation Creme | 20L |
| Digitalis | purpurea | Dalmation Mixed | 3L |
| Digitalis | purpurea | Dalmation Mixed | 20L |
| Digitalis | purpurea | Dalmation White | 3L |
| Digitalis | purpurea | Dalmation White | 20L |
| Echinacea | pallida | | 1.5L |
| Echinacea | purpurea | Adobe Orange | 2L |
| Echinacea | purpurea | Cheyenne Spirit | 2L |
| Echinacea | purpurea | Double Mess up Mixed | 2L |
| Echinacea | purpurea | Double Scoop Cranberry | 2L |
| Echinacea | purpurea | Guava Mix | 2L |
| Echinacea | purpurea | Hot Papaya | 2L |
| Echinacea | purpurea | Pow Wow White | 2L |
| Echinacea | purpurea | Pow Wow Wild Berry | 2L |
| Echinacea | purpurea | Sensation Pink | 2L |
| Echinacea | purpurea | Tomato Soup | 2L |
| Echinacea | purpurea | Tres Amigos | 2L |
| Echinops | bannaticus | Platinum Blue | 2L |
| Echinops | bannaticus | Veitch's Blue | 3L |
| Echinops | ritro | | 2L |
| Echium | candicans | | 10L |
| Echium | pininana | Snow Towers | 3L |
| Echium | russicum | | 2L |
| Echium | wildpretiixpininana | Pink Fountain | 3L |
| Edgeworthia | chrysantha | | 2L |
| Epilobum | angustifolium | Album | 2L |
| Epimedium | versicolour | Akebono | 2L |
| Epimedium | versicolour | Red Beauty | 2L |
| Epimedium | versicolour | Sulphureum | 2L |
| Epimedium | youngii | Rubrum | 2L |
| Eranthis | cicilia | | 10b |
| Eranthis | hymalis | | 10b |
| Eremurus | robustus | White Beauty | 3L |
| Eremurus | robustus | | 3L |
| Eremurus | robustus | | 3L |
| Eremurus | robustus | | 7.5L |
| Eremurus | x isabellimus | Cleopatra | 3L |
| Eremurus | x isabellimus | Ruiter Hybrids | 3L |
| Erica | | Lime tolerant Mixed | 1L |
| Erigeron | karavatiense | Lavender | 1.5L |
| Erigeron | karavatiense | Profusion | 9cm |
| Erodium | manescaui | | 2L |
| Erodium | variable | Bishop'a Form | 9k |
| Erodium | variable | White | 9k |
| Eryngium | bourgatii | Big Blue | 2L |
| Eryngium | giganteum | Silver Ghost | 3L |
| Eryngium | x zabelli | Jos Eijking | 2L |
| Erysimum | | Apricot Twist | 2L |
| Erysimum | | Bowles Mauve | 2L |
| Erysimum | | Pastel Patchwork | 2L |
| Erysimum | | Plant World Lemon | 2L |
| Erysimum | | Spice Island | 2L |
| Erysimum | | Stars and Stripes | 2L |
| Erythronium | dens canis | Rose Queen | 9K |
| Eucomis | comosa | Maui | 3L |
| Euphorbia | amygdeloides | Atropurpurea | 3L |
| Euphorbia | characias | Silver Edge | 3L |
| Euphorbia | cyparissias | Orange Man | 3L |
| Euphorbia | griffithii | Dixter | 2L |
| Euphorbia | martinii | Baby Charm | 3L |
| Euphorbia | mellifera | | 3L |
| Euphorbia | | Ascot Moonbeam | 3L |
| Euphorbia | | Blackbird | 3L |
| Euphorbia | | Redwing | 3L |
| Euphorbia | | Silver Edge | 3L |
| Ferrula | communis | Giant Fennel | 2L |
| Francoa | sonchifolia | Culm view Lilac | 3L |
| Francoa | sonchifolia | Light Pink | 3L |
| Francoa | sonchifolia | Light Pink | 3L |
| Francoa | sonchifolia | Pink Bouquet | 2L |
| Fritillaria | imperialis | Chopin | 2L |
| Fritillaria | imperialis | Rubra | 2L |
| Fritillaria | meleagris | Snake's Head Fritillary | 9k |
| Fritillaria | michaelovski | | 9k |
| Fritillaria | raddeana | | 2L |
| Gaillardia | | Atizona Sun | 2L |
| Gaillardia | | Burgundy | 2L |
| Gaillardia | | Mesa Bright Bicolour | 2L |
| Gaillardia | | Mesa Yellow | 2L |
| Gallanthus | nivalis | Flore-Pleno | 9F |
| Gallanthus | nivalis | | 9F |
| Gaura | lindorfii | Summer Breeze | 2L |
| Gaura | lindorfii | Whiskers Deep Rose | 2L |
| Genista | Lydia | | 3L |
| Geranium | cinereum | Ballerina | 1.5L |
| Geranium | clarkei | Kashmir White | 2L |
| Geranium | hybrid | Ann Folkard | 2L |
| Geranium | hybrid | Blue Blood | 2L |
| Geranium | hybrid | Blue Sunrise | 2L |
| Geranium | hybrid | Brookside | 2L |
| Geranium | hybrid | Coombland White | 2L |
| Geranium | hybrid | Eureka Blue | 2L |
| Geranium | hybrid | Hexham Velvet | 2L |
| Geranium | hybrid | J S Matu Vu | 2L |
| Geranium | hybrid | Joy | 2L |
| Geranium | hybrid | Orion | 2L |
| Geranium | hybrid | Rozanne | 2L |
| Geranium | hybrid | Sabani Blue | 2L |
| Geranium | hybrid | Salome | 2L |
| Geranium | macorrhizum | Ingweson's Variety | 2L |
| Geranium | macorrhizum | Ingweson's Variety | 2L |
| Geranium | nodosum | Silverwood | 2L |
| Geranium | oxonianum | Katherine Adele | 2L |
| Geranium | palmatum | | 2L |
| Geranium | palmatum | | 7.5 |
| Geranium | phaeum | Samobor | 2L |
| Geranium | pratense | Galactic | 2L |
| Geranium | pratense | Mrs Kendal Clarke | 2L |
| Geranium | pratense | Summer Skies | 2L |
| Geranium | pyranaceum | Bill  Wallis | 2L |
| Geranium | renardii | | 2L |
| Geranium | riversleaneum | Mavis Simpson | 2L |
| Geranium | sanguineum | Album | 1.5L |
| Geranium | sanguineum | Album | 2L |
| Geranium | sanguineum | Max Frei | 1.5L |
| Geranium | sanguineum | Vision Pink | 1.5L |
| Geranium | sanguineum | Vision Violet | 1.5L |
| Geranium | sanguinieun | Elke | 1.5L |
| Geum | coccinium | Cooky | 2L |
| Geum | coccinium | Double Blazing Sunset | 2L |
| Geum | coccinium | Flames of Passion | 2L |
| Geum | coccinium | Lady Stratheden | 2L |
| Geum | coccinium | Mrs Bradshaw | 2L |
| Geum | coccinium | Pink Petticoats | 2L |
| Geum | coccinium | Totally Tangerine | 2L |
| Gladiolus | communis | byzantinus | 1L |
| Gladiolus | communis | byzantinus | 2L |
| Hedychium | coccineum | Tara | 7.5L |
| Helenium | | Ruby Charm | 2L |
| Helenium | | Sahin's Early Flowerer | 2L |
| Helianthus | | Happy Days | 2L |
| Helleborous | argutifolius | | 3L |
| Helleborous | foetidus | | 2L |
| Helleborous | nigra | | 3L |
| Helleborous | nigra | | 3L |
| Helleborous | orientalis | Anemone Centered Yellow | 4LD |
| Helleborous | orientalis | Blue Merallic Lady | 4LD |
| Helleborous | x hybridus | Double Queen Mixed | 3L |
| Helleborous | x hybridus | Gold Collection | 4L |
| Helleborous | x hybridus | Pretty Ellen Pink | 3L |
| Helleborous | x hybridus | Pretty Ellen White | 3L |
| Helleborous | x hybridus | Sophie | 4L |
| Helleborus | orientalis | Burgundy | 4LD |
| Helleborus | orientalis | Pink Lady | 1.5L |
| Helleborus | orientalis | Yellow Spotted | 3LD |
| Helleborus | orientalis | | 4LD |
| Helleborus | x ericsmithii | Pink Beauty | 3L |
| Helleborus | x ericsmithii | Winter  Moonbeam | 3L |
| Helleborus | x hybridus | TuTu | 3L |
| Helleborus | x nigercors | Emma | 3L |
| Helleborus | x nigercors | Snow Crystal | 2L |
| Helleborus | x nigercors | White Beauty | 3L |
| Helleborus | x nigercors | Winter  Beauty | 3L |
| Hemerocallis | | Daring Deception | 2L |
| Hemerocallis | | Pardon Me | 2L |
| Hemerocallis | | Stella d Oro | 2L |
| Hemerocallis | | Stella d Oro | 2L |
| Hesperantha | coccinea | Fenland Daybreak | 2L |
| Hesperantha | coccinea | Ice Maiden | 2L |
| Hesperantha | coccinea | Major | 2L |
| Hesperantha | coccinea | Pink Princess | 2L |
| Hesperis | matronalis | Sweet Rocket Violet | 3L |
| Hesperis | matronalis | Sweet Rocket White | 2L |
| Hesperis | matronalis | Sweet Rocket White | 3L |
| Heuchera | |  Marmalade | 2L |
| Heuchera | | Berry Smoothie | 2L |
| Heuchera | | Caramel | 2L |
| Heuchera | | FireChief | 2L |
| Heuchera | | Firefly | 2L |
| Heuchera | | Firefly | 2L |
| Heuchera | | Georgia Peach | 2L |
| Heuchera | | Key Lime Pie | 2L |
| Heuchera | | Lime Marmalade | 2L |
| Heuchera | | Midnight Rose | 2L |
| Heuchera | | Obsidian | 2L |
| Heuchera | | Peach Flambe | 2L |
| Heuchera | | Plum Royale | 2L |
| Heuchera | | Silver Scrolls | 2L |
| Heuchera | | Wild Rose | 2L |
| Heucherella | | Stop Light | 2L |
| Heucherella | | Sweet Tea | 2L |
| Hieracium | auranticum | Fox and Cubs | 2L |
| Hosta | plantaginea | Venus | 7.5L |
| Hosta | | August Moon | 2L |
| Hosta | | Big Daddy | 2L |
| Hosta | | Bullet Proof | 2L |
| Hosta | | Frances Williams | 2L |
| Hosta | | Gucamole | 2L |
| Hosta | | June | 2L |
| Hosta | | Orange Marmalade | 2L |
| Hosta | | Orange Marmalade | 7.5L |
| Hosta | | Patriot | 2L |
| Hosta | | Prarie Sky | 2L |
| Hosta | | Prince of Wales | 2L |
| Hosta | | Wide Brim | 2L |
| Hyacinthoides | non scripta | Bluebell | 9F |
| Hyacinths | | Various | 9B |
| Iberis | sempervirens | Snow Flake | 2L |
| Iberis | sempervirens | | 9K |
| Incarvillia | delavayi | Snowtop | 2L |
| Indigofera | kirilowii | | 3L |
| Indigofera | potaninii | | 3L |
| Iris | pseudocorus | Variegata | 2L |
| Iris | pumilla | Brassie | 2L |
| Iris | pumilla | Cherry Garden | 2L |
| Iris | pumilla | Little Shadow | 2L |
| Iris | unguicularis | | 2L |
| Kalimeris | yomena | Shogun | 3L |
| Knautia | | Melton Pastels | 3L |
| Kniphofia | rooperi | | 2L |
| Kniphofia | rooperi | | 7.5L |
| Kniphofia | | Bees Lemon | 2L |
| Kniphofia | | Bees Lemon | 2L |
| Kniphofia | | Elvira | 2L |
| Kniphofia | | Mango Popsicle | 2L |
| Kniphofia | | Moonstona | 2L |
| Kniphofia | | Moonstona | 2L |
| Kniphofia | | Nancy's Red | 2L |
| Kniphofia | | Nancy's Red | 2L |
| Kniphofia | | Sunglow | 2L |
| Lamium | galeobdolon | Florentium | 9k |
| Lamium | maculatum | Beacon Silver | 9k |
| Lamium | maculatum | White Nancy | 9k |
| Lamprocapnos | spectabalis | Alba | 3L |
| Lamprocapnos | spectabalis | King Of Hearts | 2L |
| Lamprocapnos | spectabalis | King Of Hearts | 2L |
| Lamprocapnos | spectabalis | Valentine | 2L |
| Lamprocapnos | spectabilis | | 3L |
| Lathyrus | vernus | | 2L |
| Lavandula | angustifolia | 1/4 Standard | 18cm |
| Lavandula | angustifolia | Arctic Snow | 2L |
| Lavandula | angustifolia | Elizabeth | 2L |
| Lavandula | angustifolia | Forever Blue | 2L |
| Lavandula | angustifolia | Hidcote | 2L |
| Lavandula | angustifolia | Hidcote | 2L |
| Lavandula | angustifolia | Imperial Gem | 2L |
| Lavandula | angustifolia | Les Bleus Thierry | 2L |
| Lavandula | angustifolia | Miss Katherine | 2L |
| Lavandula | angustifolia | Munstead | 2L |
| Lavandula | angustifolia | Munstead | 2L |
| Lavandula | angustifolia | Twickel Purple | 2L |
| Lavandula | intermedia | Grosso | 2L |
| Lavandula | intermedia | Silver Sands | 2L |
| Lavandula | intermedia | Silver Sands | 2L |
| Lavandula | old english group | 20cm stem | 2L |
| Lavandula | stoechas | Devonshire Compact | 2L |
| Lavandula | stoechas | Devonshire Compact | 2L |
| Lavandula | stoechas | Fathead | 2L |
| Lavandula | stoechas | Papillon | 2L |
| Lavandula | stoechas | Snowman | 2L |
| Leucanthemum | | Becky(Brightside) | 2L |
| Leucanthemum | | Real Neat | 3L |
| Leucojum | aestivum | | 1L |
| Leucojum | aestivum | | 2L |
| Liatris | spicata | Floristan Violet | 2L |
| Liatris | spicata | Floristan Violet | 2L |
| Liatris | spicata | Floristan White | 2L |
| Liatris | spicata | Kobold | 2L |
| Ligularia | dentata | Brit-Marie Crawford | 2L |
| Ligularia | dentata | Little Rocket | 2L |
| Lilium | martagon | Hansonii | 3LD |
| Lilium | martagon | | 3LD |
| Lilium | | Cavoli | 3LD |
| Linaria | purpurea | Canon J Went | 2L |
| Liriope | muscari | Big Blue | 2L |
| Liriope | muscari | Monroe White | 2L |
| Liriope | muscari | Variegata | 2L |
| Lobelia | tupa | | 3L |
| Lobelia | x speciosa | Hadspen Purple | 3L |
| Lobelia | x speciosa | Tania | 3L |
| Lunaria | annua | Honesty | 9k |
| Lupinus | arboreus | Blue | 3L |
| Lupinus | arboreus | White | 10L |
| Lupinus | arboreus | Yellow | 3L |
| Lupinus | arboreus | Yellow | 10L |
| Lupinus | |  Gallery Blue | 3L |
| Lupinus | | Gallery Pink | 7.5L |
| Lupinus | | Gallery Red | 3L |
| Lupinus | | Gallery Red | 7.5L |
| Lupinus | | Gallery White | 3L |
| Lupinus | | Gallery Yellow | 3L |
| Lupinus | | Gallery Yellow | 7.5L |
| Lupinus | | Lulu Mixed | 3L |
| Lupinus | | Lulu Mixed | 7.5L |
| Lupinus | | Russell Mixed | 3L |
| Lupinus | | Russell Mixed | 7.5L |
| Lychnis | chalcedonica | Molten Lava | 3L |
| Lychnis | coronaria | Gardener's World | 3L |
| Lychnis | coronaria | Occulata | 3L |
| Lychnis | flos-cuculii | Jenny | 2L |
| Lychnis | flos-cuculii | Petite Jenny | 2L |
| Lychnis | flos-cuculii | White Robin | 2L |
| Lysimachia | atropurpurea | Beaujolais | 2L |
| Lysimachia | clethroides | | 2L |
| Lythrum | salicifola | Robert | 3L |
| Maclayea | cordata | | 3L |
| Maclayea | x kewensis | Flamingo | 3L |
| Matthiola | perannis | Crimson and White | 2L |
| Melianthus | major | | 2L |
| Monarda | | Fireball | 2L |
| Monarda | | Jacob Klein | 2L |
| Monarda | | Pink Supreme | 2L |
| Monarda | | Raspberry Wine | 2L |
| Monarda | | Snow Maiden | 2L |
| Morina | longifolia | | 2L |
| Muscari | armeniacum | Valerie Finnis | 10B |
| Muscari | aucheri | Mount Hood | 10B |
| Muscari | botroides | Alba | 10B |
| Muscari | latifolium | Grape Ice | 10B |
| Myrrhis | odorata | | 2L |
| Narcissus | cyclamineus | Surfside | 1L |
| Narcissus | | Baby Moon | 10B |
| Narcissus | | February Gold | 1,5L |
| Narcissus | | Minnow | 10B |
| Narcissus | | Pencrebar | 1L |
| Narcissus | | Snow Baby | 1L |
| Narcissus | | Tete a Tete | 1.5L |
| Narcissus | | Toto | 1L |
| Narcissus | | White Petticoat | 1L |
| Nectaorscordum | siculum | ssp.bulgaricum | 1.5L |
| Nepeta | faassenii | Junior Walker | 2L |
| Nepeta | faassenii | Snowflake | 2L |
| Nepeta | faassenii | Snowflake | 2L |
| Nepeta | faassenii | Walkers Low | 2L |
| Nepeta | grandiflora | Dawn to Dusk | 2L |
| Nepeta | | Six Hills Giant | 2L |
| Nerine | bowdenii | | 1.5L |
| Omphalodes | | Cherry Ingram | 2L |
| Oreganum | laevigatum | Bellissimo | 2L |
| Oreganum | laevigatum | Herrenhausen | 2L |
| Oreganum | laevigatum | Rosenkuppel | 1L |
| Orthrosanthus | laxus | Morning Iris | 3L |
| Osteospermum | jucundum | In the Pink | 2.5L |
| Osteospermum | jucundum | Snow Pixie | 2L |
| Oxalis | adenophylla | | 9B |
| Oxalis | triangularis | | 10F |
| Paeonia | double | Bowl of Beauty | 5L |
| Paeonia | double | Doctor Alexander Flemming | 10L |
| Paeonia | double | Duchess de Nemours | 5L |
| Paeonia | double | Festiva Maxima | 5L |
| Paeonia | double | Kansas | 10L |
| Paeonia | double | Kansas | 10L |
| Paeonia | double | Red Magic | 10L |
| Paeonia | double | Sarah Bernhardt | 5L |
| Paeonia | double | White Wings | 10L |
| Paeonia | single | Nippon Beauty | 5L |
| Paeonia | single | Red Magic | 5L |
| Papaver | nudicale | Champagne Bubbles | 1.5L |
| Papaver | orientale | Patty's Plum | 3L |
| Papaver | orientale | Pizzicato Mix | 2L |
| Papaver | orientale | Royal Wedding | 2L |
| Pardanacanda | norissii | Dazzler | 2L |
| Pelargonium | | Ardens | 1.5L |
| Penstemon | | Electric Blue | 2L |
| Penstemon | | Garnet | 2L |
| Penstemon | | Heavenly Blue | 2L |
| Penstemon | | Heavenly Blue | 2L |
| Penstemon | | Hewell's Pink | 2L |
| Penstemon | | King George | 2L |
| Penstemon | | Raven | 2L |
| Penstemon | | Sour Grapes | 2L |
| Penstemon | | Sour Grapes | 2L |
| Penstemon | | Wedding Day | 2L |
| Penstemon | | Wedding Day | 2L |
| Perovskia | atrip | Blue Spire | 3L |
| Perovskia | atrip | Lacy Blue | 3L |
| Perovskia | atrip | Little Spire | 3L |
| Persicaria | amplexicaulis | Fat Domino | 2L |
| Persicaria | amplexicaulis | White Eastfield | 2L |
| Persicaria | bistorta | Hohe Tatra | 3L |
| Persicaria | bistorta | Hohe Tatra | 3L |
| Persicaria | microcephala | Red Dragon | 3L |
| Persicaria | virginiana | Painter's Palette | 3L |
| Phlomis | russeliana | | 2L |
| Phlomis | russeliana | | 10L |
| Phlox | divericata | Chattahoochee | 2L |
| Phlox | divericata | Clouds of Perfume | 2L |
| Phlox | paniculata-hybr | Blue Paradise | 2L |
| Phlox | paniculata-hybr | Blue Paradise | 2L |
| Phlox | paniculata-hybr | David | 2L |
| Phlox | paniculata-hybr | David | 2L |
| Phlox | paniculata-hybr | Monica Lynden Bell | 2L |
| Phlox | paniculata-hybr | Watermelon Punch | 2L |
| Phlox | paniculata-hybr | Zenobia | 2L |
| Physalis | allekengi | franchettii | 7.5L |
| Plumbago | | Escapade Blue | 10F |
| Plumbago | | Escapade White | 10F |
| Polemonium | caeruleum | Bressingham Purple | 2L |
| Polemonium | caeruleum | Brise d'Anjou | 2L |
| Polygonatum | falcatum | Variegatum | 2L |
| Potentilla | nepalensis | William Rollinson | 3L |
| Primula | eliator | Oxlip | 10B |
| Primula | veris | Cowslip | 9K |
| Primula | vulgaris | Primrose | 9K |
| Prostranthera | cuneata | | 3L |
| Pulmonaria | x hybrida | Blue Ensign | 2L |
| Pulmonaria | x hybrida | Diana Clare | 2L |
| Pulmonaria | x hybrida | Opal | 2L |
| Pulmonaria | x hybrida | Sissinghurst White | 2L |
| Rhus | | Golden Select | 7.5L |
| Rodgersia | | Bronze Peacock | 2L |
| Rodgersia | | Bronze Peacock | 2L |
| Rosa | banksia | Lutea | 4LD |
| Rosa | x odorata | Mutabilis | 4LD |
| Rosmarinus | officionalis | 20 cm stem | 1.5L |
| Rosmarinus | officionalis | Green Ginger | 9k |
| Rosmarinus | officionalis | Haifa | 9k |
| Rosmarinus | officionalis | Prostrata | 3L |
| Rosmarinus | officionalis | Severn Sea | 3L |
| Rosmarinus | officionalis | Sunkissed | 2L |
| Rosmarinus | officionalis | | 2L |
| Rosmarinus | officionalis | | 2L |
| Rosmarinus | officionalis | | TC26 |
| Rudbeckia | | Goldsturm | 2L |
| Rudbeckia | | Little Gold Star | 2L |
| Rudbeckia | | Summerina Yellow | 2L |
| Ruta | graveolans | Jackman's Blue | 2L |
| Salvia | argentea | | 3L |
| Salvia | darcyi | Penny's Smile | 2L |
| Salvia | greggii | Amethyst Lips | 3L |
| Salvia | greggii | Caramba | 2L |
| Salvia | greggii | Emperor | 2L |
| Salvia | greggii | Joy | 2L |
| Salvia | greggii | Lipstick | 2L |
| Salvia | greggii | Peter Vidgeon | 2L |
| Salvia | greggii | Royal Bumble | 2L |
| Salvia | greggii | Sunset Strip | 2L |
| Salvia | guaranitica | Amistad | 10F |
| Salvia | involucrata | Mulberry Jam | 2L |
| Salvia | microphylla | Hot Lips | 2L |
| Salvia | microphylla | Lutea | 2L |
| Salvia | microphylla | Neurepia | 2L |
| Salvia | microphylla | Silas Dyson | 2L |
| Salvia | microphylla | Trebah | 2L |
| Salvia | microphylla | | 2L |
| Salvia | nemorosa | Caradonna | 2L |
| Salvia | nemorosa | Eveline | 2L |
| Salvia | nemorosa | Lyrical Silvertone | 2L |
| Salvia | nemorosa | Lyrical White | 2L |
| Salvia | nemorosa | LyricalRose | 2L |
| Salvia | nemorosa | Marcus | 2L |
| Salvia | nemorosa | Marvel Rose | 2L |
| Salvia | nemorosa | Marvel Sky Blue | 2L |
| Salvia | nemorosa | May Night | 2L |
| Salvia | nemorosa | Sensation Deep Rose | 2L |
| Salvia | officionalis | Growers Friend | 2L |
| Salvia | officionalis | Icterina | 9cm |
| Salvia | officionalis | Icterina | 2L |
| Salvia | officionalis | Purpurescens | 9cm |
| Salvia | officionalis | Purpurescens | 2L |
| Salvia | officionalis | Purpurescens | 2L |
| Salvia | officionalis | Tricolour | 2L |
| Salvia | officionalis | Tricolour | 2L |
| Salvia | pratense | Eveline | 2L |
| Salvia | sclerea | Turkestanica | 2L |
| Salvia | superba | Blue Queen | 2L |
| Salvia | superba | Rose Queen | 2L |
| Salvia | uliginosa | African Skies | 2L |
| Salvia | x jamensis | Sunset Strip | 2L |
| Salvia | x jamensis | Violette de Loire | 3L |
| Santolina | chamaecyparissus | Lemon Fizz | 2L |
| Santolina | chamaecyparissus | Nana | 2L |
| Santolina | virens | | 2L |
| Saponaria | ocymoides | Rose | 9k |
| Saponaria | ocymoides | Snow Tip | 9k |
| Sarcococca | confusa | | 3L |
| Sarcococca | confusa | | 7.5L |
| Sarcococca | hookeriana | | 3L |
| Saxifraga | stolonifera | Cuscutiformis | 1.5L |
| Saxifraga | umbrosa | London Pride | 9k |
| Scabiosa | caucasica | Blue Note | 9k |
| Scabiosa | caucasica | Fama Deep Blue | 2L |
| Scabiosa | caucasica | Fama Deep Blue | 2L |
| Scabiosa | caucasica | Fama White | 2L |
| Scabiosa | caucasica | Flutter Deep Blue | 2L |
| Scabiosa | caucasica | Flutter Rose Pink | 2L |
| Scabiosa | caucasica | Flutter White | 1.5L |
| Scabiosa | caucasica | Pincushion Pink | 9k |
| SCHIZOSTYLIS | | SEE HESPERANTHA        . | |
| Scilla | bifolia | Blue | 10B |
| Scilla | bifolia | Rose | 10B |
| Scilla | peruviana | | 1.5L |
| Scilla | sibirica | Blue | 10B |
| Scilla | sibirica | | 10B |
| Sedum | (Telephium) | Autumn Joy (Herbstfreude) | 2L |
| Sedum | (Telephium) | Frosted Fire | 2L |
| Sedum | (Telephium) | Jennifer | 2L |
| Sedum | (Telephium) | Laojos(Autumn Charm) | 2L |
| Sedum | (Telephium) | Matrona | 2L |
| Sedum | (Telephium) | Purple Emperor | 2L |
| Sedum | (Telephium) | Sunsparkle Lime Zinger | 2L |
| Sedum | linare | Variegatum | 9cm |
| Sedum | reflexum | Aureum | 9cm |
| Sedum | spathulifolium | Purpureum | 9cm |
| Sedum | spathulifolium | Variegatum | 9cm |
| Sedum | spurium | Dragon's Blood | 9cm |
| Senecio | candida | Angel Wings | 3L |
| Sidalcea | candida | Bianca | 2L |
| Solidago | rugosa | Fireworks | 2L |
| Stachys | byzantina | Silver Carpet | 2L |
| Stachys | thumbergii | Daniella | 1.5L |
| Symphotrichum | amellus | Brilliant | 2L |
| Symphotrichum | frikartii | Monch | 2L |
| Symphotrichum | lateriflorus | Prince | 2L |
| Symphotrichum | novae-angliae | Alma Potsche | 2L |
| Symphotrichum | novae-angliae | Barr's Violet | 2L |
| Symphotrichum | novae-angliae | Harrington's Pink | 2L |
| Symphotrichum | novae-angliae | Helen Picton | 2L |
| Symphotrichum | novae-angliae | James Ritchie | 2L |
| Symphotrichum | novae-angliae | Kylie | 2L |
| Symphotrichum | novae-angliae | Lou Williams | 2L |
| Symphotrichum | novae-angliae | Lye End Beauty | 2L |
| Symphotrichum | novae-angliae | Marina Wolkonsky | 2L |
| Symphotrichum | novae-angliae | Purple Cloud | 2L |
| Symphotrichum | novae-angliae | Purple Dome | 2L |
| Symphotrichum | novae-angliae | Rosa Sieger | 2L |
| Symphotrichum | novae-angliae | Ruddlesburg | 2L |
| Symphotrichum | novae-angliae | Sayer's Croft | 2L |
| Symphotrichum | novae-angliae | Schneehugel | 2L |
| Symphotrichum | novae-belgii | Starlight | 2L |
| Symphotrichum | x dumosus | Blue Sapphire | 2L |
| Tanacetum | coccineum | Robinson's Pink | 2L |
| Tanacetum | coccineum | Robinson's Red | 2L |
| Thalictrum | delavayi | Black Stockings | 2L |
| Thalictrum | delavayi | Hewitt's Double | 2L |
| Thalictrum | delavayi | Little Pinkie | 2L |
| Thalictrum | delavayi | Purple | 2L |
| Thalictrum | delavayi | Splendide White | 2L |
| Tiarella | wherryi | Iron Butterfly | 2L |
| Tiarella | wherryi | Iron Butterfly | 2L |
| Tiarella | wherryi | Pink Sky Rocket | 2L |
| Tigridia | coccinea | Red Hot Tiger | 2L |
| Tradescantia | x andersoniana | Concorde Grape | 2L |
| Tradescantia | x andersoniana | Pink Chablis | 2L |
| Tradescantia | x andersoniana | Sweet Kate | 2L |
| Trifolium | repens | Red Dragon | 9cm |
| Tritelia | laxa | Queen Fabiola | 1L |
| Trollius | cultorum | Chedder | 2L |
| Tulbaghia | violacea | Lavender Lace | 2L |
| Tulipa | | Nora (bright pink) | 10B |
| Verbascum | bombycyferum | Arctic Summer | 3L |
| Verbascum | bombycyferum | Arctic Summer | 10L |
| Verbascum | chaixii | Album | 3L |
| Verbascum | | Carribbean Crush | 3L |
| Verbascum | | Primrose Path | 3L |
| Verbascum | | Southern Charm | 2L |
| Verbascum | | Temptress Purple | 2L |
| Verbascum | | Temptress White | 2L |
| Verbascum | | Violetta | 3L |
| Verbena | bonariensis | | 3L |
| Veronica | hybrid | First Love | 2L |
| Veronica | hybrid | Moody Blues Dark Blue | 2L |
| Veronica | hybrid | Moody Blues Sky Blue | 2L |
| Veronica | hybrid | Moody Blues White | 2L |
| Veronica | hybrid | Purpelicious | 2L |
| Veronica | hybrid | Red Fox | 2L |
| Veronica | longifolia | Pink Eveline | 2L |
| Veronica | peduncularis | Georgia Blue | 9k |
| Veronica | prostrata | Nestor | 9k |
| Veronica | spicata | Royal Candles | 2L |
| Veronicastrum | virginicum | Album | 2L |
| Vinca | difformis | Ruby Baker | 3L |
| Vinca | difformis | Ruby Baker | 3L |
| Vinca | major | maculata oxyloba | 3L |
| Vinca | minor | Alba | 2L |
| Vinca | minor | Atropurpurea | 2L |
| Vinca | minor | Bowles Variety (La Grave) | 2L |
| Vinca | minor | Illumination | 2L |
| Vinca | minor | Moonlit | 2L |
| Viola | odorata | | 9k |
| Zantedeschia | aethiopica | Calafornia Red | 3L |
| Zantedeschia | aethiopica | Crowborough | 3L |