Herbaceous Plants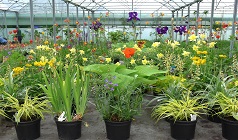 These hardy varied and versatile plants are our speciality.  We stock over 800 varieties from old favourites to the latest introductions and are always on the lookout for new and interesting plants to add to our range.
Herbaceous perennials are available all year round and we are continually replenishing our stock. The widest choice is available in April and May.
These include many of your favourites such as salvia, penstemon, heuchera, euphorbia, hellebores and well-established specimen sizes of lupins and delphiniums.
We have a separate section for Bamboos, Ferns and Grasses, please see here.
To see the list of herbaceous perennials that we have in stock at the beginning of the season, please see the list below; this does not, however, guarantee availability on the day of your visit.
Location: Our herbaceous plants are generally found in the second tunnel, generally Bays 12-16
Downside Nurseries Herbaceous List as at March 2022
Please remember that the list below is correct as at March 2022, but not all of these plants may be available on the day of your visit
If you'd like to download this page, please click here
| | | | |
| --- | --- | --- | --- |
| Genus | Species | Variety | Pot Size |
| Acanthus | mollis | | 3L |
| Acanthus | mollis | Hollard's Gold | 3L |
| Acanthus | mollis | White Water | 3L |
| Achillea | | Moonshine | 2L |
| Achillea | | Moonshine | 6L |
| Achillea | | Peggy Sue | 2L |
| Achillea | | Pretty Belinda | 2L |
| Achillea | | Red Velvet | 2L |
| Achillea | | Sassy Summer Sunset | 2L |
| Achillea | | Summerwine | 3L |
| Achillea | | Summerwine | 7.5L |
| Achillea | | Terracotta | 2L |
| Aconitum | napellus | | 2L |
| Aconitum | napellus | Album | 2L |
| Adenophora | liliifolia | | 2L |
| Adenophora | liliifolia | | 2L |
| Adenophora | liliifolia | Gaudy Violet | 2L |
| Aeonium | | Zwarkop | 2L |
| Agapanthus | | Arctic Star | 2L |
| Agapanthus | | Fireworks | 2L |
| Agapanthus | | Flower of Love | 2L |
| Agapanthus | | Icicles | 2L |
| Agapanthus | | Northern Star | 2L |
| Agapanthus | | Silver Moon | 2L |
| Agapanthus | | Twister | 2L |
| Agastache | rugosa | Little Adder | 3L |
| Agastache | | Apricot Sprite | 3L |
| Agastache | | Beelicious Purple | 3L |
| Agave | americana | | 5L |
| Agave | americana | | 10L |
| Ajuga | reptans | Arctic Fox | 9k |
| Ajuga | reptans | Burgundy Glow | 9k |
| Ajuga | reptans | Golden Beauty | 9k |
| Alcea | ficifolia | Las Vegas Hybrids(Single) | 3L |
| Alcea | ficifolia | Las Vegas Hybrids(Single) | 3L |
| Alcea | ficifolia | Wheeldon's Red | 3L |
| Alcea | ficifolia | Wheeldon's Red | 3L |
| Alcea | rosea | Black Knight(Nigra) | 3L |
| Alcea | rosea | Black Knight(Nigra) | 3L |
| Alcea | rosea | Mars Magic | 3L |
| Alcea | rosea | Mars Magic | 3L |
| Alcea | rosea | Polestar | 3L |
| Alcea | rosea | Polestar | 3L |
| Alcea | rosea | Radiant Rose | 3L |
| Alcea | rosea | Radiant Rose | 3L |
| Alcea | rosea | Sunshine | 3L |
| Alcea | rosea | Sunshine | 3L |
| Alchemilla | mollis | Irish Silk | 3L |
| Allium | bulgaricum | See Nectaroscordum | 2L |
| Allium | cernum | | 1L |
| Allium | shubertii | | 2L |
| Allium | shubertii | | 2L |
| Allium | spherocephalon | | 2L |
| Allium | | Firmament | 1.5L |
| Allium | | Globemaster | 2L |
| Allium | | Millennium | 2L |
| Allium | | Mount Everest | 2L |
| Alnus | glutinosa | Imperialis | 12L |
| Alnus | incana | Aurea | 12L |
| Alstroemeria | | Indian Summer | 2L |
| Alstroemeria | | Inticancha Bryce | 2L |
| Alstroemeria | | Inticacha Doba | 2L |
| Alstroemeria | | Inticacha Dark Purple | 2L |
| Alstroemeria | | Inticancha Red | 2L |
| Alstroemeria | | Inticancha Indigo | 2L |
| Alstroemeria | | Inticancha Red | 5L |
| Alstroemeria | | Inticancha Sunshine | 2L |
| Alstroemeria | | Inticancha White Magic | 2L |
| Alstroemeria | | Summer Break | 2L |
| Alstroemeria | | Summer Breeze | 2L |
| Alstroemeria | | Summer Sky | 5L |
| Amsonia | orientalis | | 5L |
| Anchusa | azurea | Loddon Royalist | 2L |
| Anchusa | azurea | Loddon Royalist | 7.5L |
| Anemone | blanda | Blue | 10B |
| Anemone | hybr. | Andrea Atkinson | 2L |
| Anemone | hybr. | Frilly Knickers | 2L |
| Anemone | hybr. | Max Vogel | 2L |
| Anemone | hybr. | Prince Heinrich | 2L |
| Anemone | hybr. | Queen Charlotte | 2L |
| Anemone | hybr. | Whirlwind | 2L |
| Anemone | hybr. | Whirlwind | 2L |
| Anemone | hybr. | Wild Swan | 2L |
| Anemone | sylvestris | | 1.5L |
| Angelica | pachycarpa | | 3L |
| Angelica | pachycarpa | | 7.5L |
| Aquilegia | vulgaris | Swan Blue/White | 2L |
| Aquilegia | vulgaris | Swan Burgundy/White | 2L |
| Aquilegia | vulgaris | Swan Red/White | 2L |
| Aquilegia | vulgaris | Swan White | 2L |
| Aquilegia | vulgaris | Swan Yellow | 2L |
| Aquilegia | vulgaris | William Guiness | 2L |
| Arabis | caucasia | Rosea | 9k |
| Arabis | caucasia | Snow Cap | 9k |
| Arenaria | montana | | 9k |
| Argyrocytisus | battandieri | | 2L |
| Argyrocytisus | battandieri | | 5L |
| Argyrocytisus | battandieri | Yellow Tail | 12L |
| Armeria | maritima | Nifty Thrifty | 9cm |
| Armeria | maritima | Alba | 9cm |
| Armeria | maritima | Pink | 9cm |
| Armeria | maritima | Vesuvius | 9cm |
| Artemesia | absintheum | Lambrook Silver | 2L |
| Artemesia | absintheum | Lambrook Silver | 7.5L |
| Artemesia | alba | Canescens | 2L |
| Artemesia | scmidtiana | Silver Mound | 2L |
| Asclepias | tuberosa | | 3L |
| ASTER | | SEE SYMPHOTRICHIUM . | |
| Astilbe | chinensis | Look at Me | 3L |
| Astilbe | chinensis | Visions in Red | 3L |
| Astilbe | chinensis | Visions in White | 3L |
| Astilbe | japonica | Bridal Veil | 3L |
| Astilbe | x hybrida | Delft Lace | 3L |
| Astrantia | major | Buckland | 2L |
| Astrantia | major | Claret | 2L |
| Astrantia | major | Florence | 2L |
| Astrantia | major | Hadspen Blood | 2L |
| Astrantia | major | Roma | 2L |
| Astrantia | major | Shaggy | 2L |
| Astrantia | major | Superstar(white) | 2L |
| Astrantia | major | Star of Billion (white) | 2L |
| Astrantia | major | Venice | 2L |
| Aubretia | deltoidea | Alix Brett | 9k |
| Aubretia | deltoidea | Blue Beauty(Double) | 9k |
| Aubretia | deltoidea | KatieMixed | 9k |
| Aubretia | deltoidea | Lavender Lace | 9k |
| Aubretia | deltoidea | Pink Beauty(Double) | 9k |
| Aubretia | deltoidea | Royal Blue | 9k |
| Aubretia | deltoidea | Swan Red | 9k |
| Aubretia | deltoidea | Variegata | 9k |
| Aubretia | deltoidea | Westacre Gold | 9k |
| Aurinia | saxatalis | | 9k |
| Baptisia | x hybrida | Blueberry Sundae | 3L |
| Baptisia | x hybrida | Dutch Chocolate | 3L |
| Baptisia | x hybrida | Lemon Meringue | 3L |
| Baptisia | x hybrida | Vanilla Cream | 3L |
| Bergenia | | Bach | 2L |
| Bergenia | | Bressingham White | 2L |
| Bergenia | | Dark Damsel | 3L |
| Bergenia | | Dark Margin | 3L |
| Bergenia | | Diamond Drops | 3L |
| Bergenia | | Dumbo | 2L |
| Bergenia | | Kerstin | 3L |
| Bergenia | | Spring Fling | 3L |
| Bergenia | | Overture | 3L |
| Bergenia | | Silberlicht | 3L |
| Brunnera | macrophylla | Looking Glass | 3L |
| Brunnera | macrophylla | Mr. Morse | 3L |
| Brunnera | macrophylla | Sea Heart | 3L |
| Brunnera | macrophylla | Silver Spear | 3L |
| Brunnera | macrophylla | Variegata | 3L |
| Calla Lilly | | SEE ZANTADESCHIA | |
| Calocephalus | brownii | Titanium | 9k |
| Camassia | lieichtlinii | Caerulea | 2L |
| Camassia | lieichtlinii | White | 2L |
| Campanula | carpatica | Rapido Blue | 9k |
| Campanula | carpatica | Rapido White | 9k |
| Campanula | fenestrellata | Blue | 9k |
| Campanula | garganica | Dickson's Gold | 9k |
| Campanula | lactiflora | Lodden Anna | 2L |
| Campanula | lactiflora | Pritchard's Variety | 2L |
| Campanula | persicifolia | Blue Bell | 2L |
| Campanula | x punctata | Sarastro | 2L |
| Canna | | Tropicana | 5L |
| Cardamine | pratensis | Lady's Smock | 9k |
| Cardamine | pratensis | Lady's Smock | 2L |
| Catananche | caerulea | Alba | 2L |
| Catananche | caerulea | | 2L |
| Centaurea | montana | Bella | 2L |
| Centaurea | montana | Blue | 2L |
| Centranthus | ruber | Alba Pura | 2L |
| Centranthus | ruber | coccineus Red Valerian | 2L |
| Cephalaria | gigantea | | 3L |
| Cerastium | tomentosum | | 9k |
| Chamomile | | Double | 9cm |
| Chicorium | intybus | | 3L |
| Chinodoxera | luciliae | Alba | 10B |
| Chinodoxera | luciliae | Rose Queen | 10B |
| Chrysanthemum | | Duchess of Edinburgh | 2L |
| Chrysanthemum | | Nantyderry Sunshine | 2L |
| Chrysogonum | virginianum | Pierre | 2L |
| Cirsium | rivulare | Atropurpureum | 2L |
| Cirsium | rivulare | Pink Blush | 3L |
| Colocasia | | Royal Hawaiian Punch | 2L |
| Convallaria | majalis | Lily of the Valley | 2L |
| Coreopsis | hybrida | Uptick Cream and Red | 2L |
| Coreopsis | hybrida | Uptick Gold and Bronze | 2L |
| Coreopsis | verticillata | S & S Crazy Cayenne | 2L |
| Coreopsis | verticillata | S & S Crazy Cayenne | 5L |
| Crambe | cordifola | | 3L |
| Crocosmia | x crocosmifolia | Carnine Brilliant | 2L |
| Crocosmia | x crocosmifolia | Emily Mckenzie | 2L |
| Crocosmia | x crocosmifolia | George Davidson | 2L |
| Crocosmia | x crocosmifolia | Lucifer | 2L |
| Cyclamen | coum | | 9cm |
| Cyclamen | hederifolium | Mixed | 9cm |
| Cynara | cardunculis | Cardoon | 3L |
| Cynara | scolymus | Artichoke Green Globe | 2L |
| Cynara | scolymus | Artichoke Green Globe | 3L |
| Cytisus | racemosus | | 1.5L |
| Dahlia | | Bishop of Llandaff | 3L |
| Dahlia | | Bishop of Llandaff | TC30 |
| Dahlia | | Fascination | 3L |
| Dahlia | | Fascination | TC30 |
| Dahlia | | Garden Wonder | 3L |
| Dahlia | | Karma Choc | 3L |
| Delphinium | grandiflorum | Aurora Light Blue | 3L |
| Delphinium | grandiflorum | Blue Lace | 3L |
| Delphinium | grandiflorum | Double Innocence | 3L |
| Delphinium | grandiflorum | Guardian Blue | 3L |
| Delphinium | grandiflorum | Guardian White | 3L |
| Delphinium | grandiflorum | Dusky Maiden | 3L |
| Delphinium | grandiflorum | Pagan Purples | 3L |
| Delphinium | grandiflorum | Sherbert Lemon | 3L |
| Dianthus | barbatus | Dash Crimson | 2L |
| Dianthus | barbatus | Dash Magicien | 2L |
| Dianthus | deltoides | Microchop | 9k |
| Dianthus | Garden Pink | Highly scented 23 varieties | 9K |
| Dianthus | Garden Pink | Scent First pot & patio 17 varieties | 1L |
| Dianthus | knapii | Yellow Harmony | 9k |
| DICENTRA | | SEE LAMPROCAPNOS . | 3L |
| Dicksonia | antarctica | | 3L |
| Dicksonia | antarctica | | 3L |
| Dicksonia | antarctica | | 7.5L |
| Dicksonia | antarctica | 4 ft trunk | 15L |
| Dicksonia | antarctica | 6 ft trunk | 50L |
| Digitalis | mertonensis | | 2L |
| Digitalis | purpurea | Dalmation Creme | 3L |
| Digitalis | purpurea | Dalmation Creme | 20L |
| Digitalis | purpurea | Dalmation Lavender | 3L |
| Digitalis | purpurea | Dalmation Lavender | 20L |
| Digitalis | purpurea | Dalmation Mixed | 3L |
| Digitalis | purpurea | Dalmation Mixed | 20L |
| Digitalis | purpurea | Dalmation White | 3L |
| Digitalis | purpurea | Dalmation White | 20L |
| Digitalis | x obscura | Goldcrest | 3L |
| Doronicum | orientale | Little Leo | 1.5L |
| Echinacea | pallida | | 1.5L |
| Echinacea | purpurea | Cheyenne Spirit | 2L |
| Echinacea | purpurea | Double Scoop Cranberry | 2L |
| Echinacea | purpurea | Green Jewel | 3L |
| Echinacea | purpurea | Guava Ice | 2L |
| Echinacea | purpurea | Hot Papaya | 2L |
| Echinacea | purpurea | Pow Wow White | 2L |
| Echinacea | purpurea | Rocky Top Hybrids | 3L |
| Echinacea | purpurea | Sensation Pink | 3L |
| Echinacea | purpurea | Sombrero Adobe Orange | 2L |
| Echinacea | purpurea | Sombrero Salsa Red | 2L |
| Echinacea | purpurea | Sombrero Adobe Sangrira | 2L |
| Echinacea | purpurea | Southern Belle | 2L |
| Echinacea | purpurea | Tomato Soup | 3L |
| Echinops | bannaticus | Taplow Blue | 2L |
| Echinops | bannaticus | Veitch's Blue | 2L |
| Epimedium | angustifolium | Album | 2L |
| Epimedium | grandiflorum | Lilafee | 3L |
| Eranthis | cicilia | | 10B |
| Eranthis | cicilia | | 3L |
| Eremurus | robustus | White Beauty | 3L |
| Eremurus | x isabellimus | Cleopatra | 3L |
| Eremurus | x isabellimus | Cleopatra | 3L |
| Erigeron | karavatiense | Profusion | 9cm |
| Erodium | variable | Bishop'a Form | 9k |
| Erodium | variable | White | 9k |
| Eryngium | bourgatii | | 2L |
| Eryngium | x zabelii | Big Blue | 2L |
| Erysimum | | Bowles Mauve | 3L |
| Erysimum | | Golden Jubilee | 3L |
| Erysimum | | Plant World Lemon | 2L |
| Erysimum | | Spice Island | 2L |
| Erysimum | | Spring Green Copper | 2L |
| Erysimum | | Stars and Stripes | 2L |
| Erysimum | | Winter Orchid | 2L |
| Eucomis | | Sparkling Burgundy | 2L |
| Euphorbia | martinii | | 2L |
| Euphorbia | x martinii | Ascot Rainbow | 3L |
| Euphorbia | x martinii | Baby Charm | 3L |
| Euphorbia | x martinii | Rudolph | 2L |
| Euphorbia | amygdeloides | Robbiae | 2L |
| Euphorbia | amygdeloides | Robbiae | 5l |
| Euphorbia | amygdeloides | Purpurea | 3L |
| Euphorbia | characias | Glacier Blue | 3L |
| Euphorbia | characias | Silver Edge | 3L |
| Euphorbia | characias | Silver Swan | 3L |
| Euphorbia | characias | Variegata | 5L |
| Euphorbia | characias wulfenii | Emmer Green | 3L |
| Euphorbia | griffithii | Fireglow | 3L |
| Euphorbia | mellifera | | 3L |
| Euphorbia | myrsenites | | 2L |
| Euphorbia | | Blackbird | 3L |
| Fern | | Evergreen Mixed | 1L |
| Ferrula | communis | Giant Fennel | 2L |
| Ferrula | communis | Giant Fennel | 7.5L |
| Fritillaria | imperialis | Aurora | 2L |
| Fritillaria | imperialis | Rascal Chopin | 2L |
| Fritillaria | meleagris | Alba | 9F |
| Fritillaria | meleagris | Snake's Head Fritillary | 9F |
| Fritillaria | michaelovski | | 9F |
| Fritillaria | raddeana | | 2L |
| Gaillardia | | Atizona Red | 3L |
| Gaillardia | | Burgundy | 2L |
| Gaillardia | | Mesa Bright Bicolour | 2L |
| Galega | officionalis | | 2L |
| Galium | odoratum | Sweet Woodruff | 9cm |
| Gallanthus | nivalis | | 9F |
| Gallanthus | nivalis | Flore-Pleno | 9F |
| Gaura | lindhemeri | Summer Breeze | 2L |
| Gaura | lindhemeri | Whirling Butterflies | 2L |
| Genista | Lydia | | 3L |
| Geranium | cantabrigiense | Biokovo | 2L |
| Geranium | cantabrigiense | Saint Ola | 2L |
| Geranium | cinereum | Ballerina | 1.5L |
| Geranium | clarkei | Kashmir White | 2L |
| Geranium | hybrid | Brookside | 2L |
| Geranium | hybrid | Coombland White | 2L |
| Geranium | hybrid | Joy | 2L |
| Geranium | hybrid | Orion | 2L |
| Geranium | hybrid | Patricia | 2L |
| Geranium | hybrid | Rosetta | 2L |
| Geranium | hybrid | Rozanne | 2L |
| Geranium | oxonianum | Katherine Adele | 2L |
| Geranium | phaeum | Raven | 2L |
| Geranium | pratense | Galactic | 2L |
| Geranium | pratense | Plenum Album | 2L |
| Geranium | sanguineum | Album | 2L |
| Geranium | sanguineum | Max Frei | 1.5L |
| Geranium | sanguineum | Vision Pink | 1.5L |
| Geranium | sanguinieun | Elke | 1.5L |
| Geranium | x riversleanum | Mavis Simpson | 2L |
| Gerbera | garvinea | Femmy | 2L |
| Gerbera | garvinea | Sweet Glow | 2L |
| Gerbera | garvinea | Sweet Sunset | 2L |
| Geum | borisii | | 7.5L |
| Geum | coccinium | Double Blazing Sunset | 2L |
| Geum | coccinium | Flames of Passion | 2L |
| Geum | coccinium | Mai Tai | 7.5L |
| Geum | coccinium | Mrs Bradshaw | 2L |
| Geum | coccinium | Mrs Bradshaw | 7.5L |
| Geum | coccinium | Scarlet Tempest | 2L |
| Geum | coccinium | Tempo Orange | 2L |
| Geum | coccinium | Tempo Rose | 2L |
| Geum | coccinium | Tempo Tangerine | 2L |
| Geum | coccinium | Totally Tangerine | 2L |
| Gypsophila | paniculata | Snowflake | 2L |
| Haeracleum | | Pink Cloud | 3l |
| Helenium | | Rubinswerg | 2L |
| Helenium | | Moorheim Beauty | 2L |
| Helenium | | Sahin's Early Flowerer | 2L |
| Helenium | | Strawberry Sundae | 2L |
| Helenium | | Strawberry Sundae | 5L |
| Helianthus | salicifolius | | 2L |
| Helleborous | orientalis | Mixed | 2L |
| Helleborous | x hybridus | Double Queen Mixed | 3L |
| Helleborous | x hybridus | Anna's Red | 2L |
| Helleborous | x hybridus | Crystal Love | 3L |
| Helleborous | x hybridus | Frozen Kristoff | 3L |
| Helleborous | x hybridus | HGC Cinnamon Snow | 4L |
| Helleborous | x hybridus | H G C Conny | 2L |
| Helleborous | x hybridus | HGC Icebreaker Max | 4L |
| Helleborous | x hybridus | HGC Ice 'n Roses Red | 4L |
| Helleborous | x hybridus | HGC Merlin | 4L |
| Helleborous | x hybridus | HGC Shooting Star | 4L |
| Helleborous | x hybridus | Isabelle | 2L |
| Helleborous | x hybridus | John Hopkins | 2L |
| Helleborous | x hybridus | SP Charlotte | 2L |
| Helleborous | x hybridus | SP Lily | 2L |
| Helleborous | x hybridus | SP Tiffany | 2L |
| Helleborous | x hybridus | Tutu | 3L |
| Helleborous | x hybridus | Winter Passion | 3L |
| Hemerocallis | | Frans Hals | 2L |
| Hemerocallis | | Pardon Me | 2L |
| Hemerocallis | | Pardon Me | 7.5L |
| Hemerocallis | | Stella d Oro | 2L |
| Hemerocallis | | Stella d Oro | 2L |
| Heracleum | Pink Cloud | | 10L |
| Hesperantha | coccinea | Cindy Towe | 2L |
| Hesperantha | coccinea | Cindy Towe | 7.5L |
| Hesperantha | coccinea | Ice Maiden | 2L |
| Hesperantha | coccinea | Ice Maiden | 7.5L |
| Hesperantha | coccinea | Pink Princess | 2L |
| Hesperantha | coccinea | Pink Princess | 7.5L |
| Hesperis | matronalis | Sweet Rocket Violet | 2L |
| Hesperis | matronalis | Sweet Rocket White | 2L |
| Heuchera | | Boysenberry | 7,5L |
| Heuchera | | Cherry Cola | 2L |
| Heuchera | | Coral Festival | 2L |
| Heuchera | | Electra | 2L |
| Heuchera | | FireChief | 2L |
| Heuchera | | Ginger Ale | 2L |
| Heuchera | | Georgia Peach | 2L |
| Heuchera | | Lime Marmalade | 2L |
| Heuchera | | Lemon Dinosaur | 9k |
| Heuchera | | Marmalade | 2L |
| Heuchera | | Midnight Rose | 2L |
| Heuchera | | Obsidian | 2L |
| Heuchera | | Peach Flambe | 2L |
| Heuchera | | Oink Panky | 9k |
| Heuchera | | Plum Royale | 2L |
| Heuchera | | Silver Scrolls | 2L |
| Heuchera | | Sweet Tart | 2L |
| Heucherella | | Yellowstone Falls | 2L |
| Honesty | | SEE LUNARIA | |
| Hosta | | Blue Cadet | 2L |
| Hosta | | Colour Festival | 2L |
| Hosta | | First Frost | 3L |
| Hosta | | Fragrant Dream | 2L |
| Hosta | | Fragrant Dream | 5L |
| Hosta | | Great expectations | 2L |
| Hosta | | Great expectations | 5L |
| Hosta | | Gucamole | 2L |
| Hosta | | Gucamole | 5L |
| Hosta | | Hadspen Blue | 2L |
| Hosta | | June | 2L |
| Hosta | | Orange Marmalade | 2L |
| Hosta | | Paul's Glory | 2L |
| Hosta | | Patriot | 2L |
| Hosta | | Prarie Sky | 2L |
| Hosta | | Royal Standard | 5L |
| Hosta | | So Sweet | 2L |
| Hosta | | Sum and Substance | 2L |
| Hosta | | Wide Brim | 2L |
| Hosta | | Wu La La | 2L |
| Houttuynia | cordata | Chameleon | 3L |
| Houttuynia | cordata | Chameleon | 10L |
| Hyacinthoides | non scripta | Bluebell | 9F |
| Hyacinths | | Various | 9B |
| Iberis | sempervirens | Summer Snowdrift | 9cm |
| Incarvillia | delavayi | Snow Drop | 2L |
| Incarvillia | delavayi | Snow Top | 5L |
| Iris | germanica | Cranberry Swirl | 2L |
| Iris | germanica | "War Chief | 2L |
| Iris | pseudocorus | Variegata | 2L |
| Iris | pseudocorus | Variegata | 7.5L |
| Iris | pumilla | Blue Denim | 2L |
| Iris | pumilla | Brassie | 2L |
| Iris | unguicularis | | 2L |
| Knautia | | Mars Midget | 2L |
| Knautia | | Melton Pastels | 2L |
| Kniphofia | | Bees Lemon | 2L |
| Kniphofia | | Orange Vanilla Popsicle | 2L |
| Kniphofia | | Nancy's Red | 2L |
| Kniphofia | | Nancy's Red | 2L |
| Kniphofia | | Poco Orange | 2L |
| Kniphofia | | Sunglow | 2L |
| Lamprocapnos | spectabalis | Alba | 2L |
| Lamprocapnos | spectabalis | King Of Hearts | 2L |
| Lamprocapnos | spectabalis | Valentine | 2L |
| Lamprocapnos | spectabilis | | 3L |
| Lamprocapnos | spectabilis | | 5L |
| Lathyrus | vernus | | 9k |
| Lavandula | angustifolia | Arctic Snow | 2L |
| Lavandula | angustifolia | Hidcote | 2L |
| Lavandula | angustifolia | Hidcote | 10L |
| Lavandula | angustifolia | Imperial Gem | 2L |
| Lavandula | angustifolia | Miss Katherine | 2L |
| Lavandula | angustifolia | Munstead | 2L |
| Lavandula | angustifolia | Phenomenal | 2L |
| Lavandula | intermedia | Grosso | 2L |
| Lavandula | intermedia | Silver Sands | 2L |
| Lavandula | stoechas | Fairy Wings Blush | 2L |
| Lavandula | stoechas | Fairy Wings Pink | 2L |
| Lavandula | stoechas | Fathead | 2L |
| Lavandula | stoechas | Papillon | 2L |
| Lavandula | stoechas | Tiara | 2L |
| Leucanthemum | vulgare | Ox Eye Daisy | 2L |
| Leucanthemum | | Becky(Brightside) | 2L |
| Leucojum | aestivum | | 1L |
| Leucojum | aestivum | | 2L |
| Leucojum | aestivum | Gravetye Giant | 2L |
| Liatris | spicata | Floristan Violet | 2L |
| Ligularia | dentata | Little Rocket | 2L |
| Ligularia | dentata | Othello | 2L |
| Liriope | muscari | Amethyst | 2L |
| Liriope | muscari | Big Blue | 2L |
| Liriope | muscari | Big Blue | 2L |
| Liriope | muscari | Monroe White | 2L |
| Liriope | muscari | Monroe White | 2L |
| Lobelia | cardinalis | Queen Victoria | 3L |
| Lobelia | x speciosa | Hadspen Purple | 3L |
| Lobelia | x speciosa | Sparkling Ruby | 3L |
| Lobelia | x speciosa | Scarlet / Bronze leaf | 3L |
| Lobelia | x speciosa | Starship Blue | 3L |
| Lobelia | x speciosa | Starship Rose | 3L |
| Lunaria | annua | Honesty Mixed | 9k |
| Lunaria | annua | Honesty Purple | 9k |
| Lunaria | annua | Honesty White | 9k |
| Lupinus | arboreus | Blue | 3L |
| Lupinus | arboreus | White | 3L |
| Lupinus | arboreus | Yellow | 2L |
| Lupinus | | Chandelier | 10L |
| Lupinus | | Beefeater | 3L |
| Lupinus | | Blossom | 3L |
| Lupinus | | Cashmere Cream | 3L |
| Lupinus | | Gallery Blue | 3L |
| Lupinus | | Gallery Pink | 3L |
| Lupinus | | Gallery Red | 3L |
| Lupinus | | Gallery White | 3L |
| Lupinus | | Gallery Yellow | 3L |
| Lupinus | | Gladiator | 3L |
| Lupinus | | Magic Lantern | 3L |
| Lupinus | | Masterpiece | 3L |
| Lupinus | | My Castle | 10L |
| Lupinus | | Noble Maiden | 10L |
| Lupinus | | Russell Mixed | 3L |
| Lupinus | | The Chatelaine | 10L |
| Lupinus | | The Governor | 10L |
| Lychnis | coronaria | Alba | 3L |
| Lychnis | coronaria | Gardener's World | 2L |
| Lychnis | coronaria | Occulata | 3L |
| Lychnis | flos-cuculii | Petite Henri | 2L |
| Lychnis | flos-cuculii | Petite Jenny | 2L |
| Lysimachia | atropurpurea | Beaujolais | 2L |
| Lythrum | salicifola | Robert | 3L |
| Maclayea | cordata | | 3L |
| Malva | moschata | Alba | 2L |
| Malva | moschata | Rosea | 2L |
| Matthiola | incana | Alba | 2L |
| Matthiola | incana | Alba | 2L |
| Matthiola | incana | Alba | 7.5L |
| Melianthus | major | | 2L |
| Monarda | didyma | Fireball | 2L |
| Monarda | didyma | Hybrid Mixed | 2L |
| Muscari | botroides | Album | 10B |
| Narcissus | obvallaris | Tenby Daffodil | 10F |
| Narcissus | obvallaris | Baby Boomer | 10F |
| Narcissus | | Aqrctic Bells | 10F |
| Narcissus | | Hawera | 10F |
| Narcissus | | Jack Snipe | 1L |
| Narcissus | | Moonlight Sensation | 1L |
| Narcissus | | Snow Baby | 10F |
| Narcissus | | Tete a Tete | 1L |
| Narcissus | | Toto | 1L |
| Nectaorscordum | siculum | ssp.bulgaricum | 1.5L |
| Nepeta | faassenii | Junior Walker | 2L |
| Nepeta | faassenii | Purrsian Blue | 2L |
| Nepeta | faassenii | Walkers Low | 2L |
| Nepeta | faassenii | Walkers Low | 7.5L |
| Nepeta | faassenii | Six Hills Giant | 2L |
| Nepeta | faassenii | Six Hills Giant | 2L |
| Nepeta | faassenii | Six Hills Giant | 7.5L |
| Nepeta | faassenii | Whispurr Blue | 7.5L |
| Nepeta | grandiflora | Dawn to Dusk | 2L |
| Nepeta | grandiflora | Dawn to Dusk | 7.5L |
| Nepeta | nervosa | Blue Moon | 8.75 |
| Nerine | bowdenii | | 1.5L |
| Omphalodes | | Cherry Ingram | 2L |
| Oreganum | laevigatum | Bellissimo | 2L |
| Oreganum | laevigatum | Herrenhausen | 2L |
| Oreganum | laevigatum | Rosenkuppel | 1L |
| Orthrosanthus | laxus | Morning Iris | 3L |
| Osteospermum | jucundum | Compactum | 2L |
| Osteospermum | jucundum | Sennen Sunrise | 2L |
| Osteospermum | jucundum | Snow Pixie | 2L |
| Osteospermum | jucundum | Snow Pixie | 7.5L |
| Oxalis | triangularis | | 10F |
| Paeonia | double | Duchess de Nemours | 5L |
| Paeonia | double | Kansas | 10L |
| Paeonia | double | White Double | 5L |
| Paeonia | single | Nippon Beauty | 10L |
| Paeonia | suffruticosa | Mixed | 5L |
| Papaver | orientale | Central Park | 3L |
| Papaver | orientale | Harlem | 3L |
| Papaver | orientale | Patty's Plum | 2L |
| Papaver | orientale | Pizzicato Mix | 2L |
| Papaver | orientale | Royal Wedding | 2L |
| Papaver | orientale | Turkenloius | 2L |
| Papaver | orientale | White Ruffles | 2L |
| Pardanacanda | norissii | Dazzler | 2L |
| Pelargonium | | Ardens | 1.5L |
| Penstemon | heterpohyllus | Electric Blue | 2L |
| Penstemon | | Arabesque Appleblossom | 2L |
| Penstemon | | Arabesque Red | 2L |
| Penstemon | | Arabesque Red | 7.5L |
| Penstemon | | Arabesque Violet | 2L |
| Penstemon | | Arabesque Violet | 7.5L |
| Penstemon | | Fujiyama | 3L |
| Penstemon | | Garnet | 2L |
| Penstemon | | Garnet | 7.5L |
| Penstemon | | Harlequin Magenta | 2L |
| Penstemon | | Harlequin Magenta | 7.5L |
| Penstemon | | Harlequin Pink | 7.5L |
| Penstemon | | Kilamanjaro | 3L |
| Penstemon | | King George | 3L |
| Penstemon | | Laura | 3L |
| Penstemon | | Laura | 7.5L |
| Penstemon | | Plum Jerkum | 3L |
| Penstemon | | Plum Jerkum | 7.5L |
| Penstemon | | Sour Grapes | 2L |
| Penstemon | | Wedding Day | 3L |
| Perovskia | atriplicifolia | Blue Spire | 3L |
| Perovskia | atriplicifolia | Blue Steel | 2L |
| Perovskia | atriplicifolia | Lacy Blue | 3L |
| Perovskia | atriplicifolia | Little spire | 3L |
| Perovskia | atriplicifolia | Little spire | 3L |
| Persicaria | amplexicaulis | Blackfield | 2L |
| Persicaria | amplexicaulis | Fat Domino | 2L |
| Persicaria | amplexicaulis | Fat Domino | 2L |
| Persicaria | amplexicaulis | Hohe Tatra | 2L |
| Phlomis | cashmeriana | | 3L |
| Phlomis | fruticosa | | 3L |
| Phlomis | russeliana | | 3L |
| Phlomis | russeliana | | 10L |
| Phlox | divericata | Chattahoochee | 2L |
| Phlox | divericata | Clouds of Perfume | 2L |
| Phlox | paniculata-hybr | Blue Paradise | 2L |
| Phlox | paniculata-hybr | Bright Eyes | 2L |
| Phlox | paniculata-hybr | David | 2L |
| Phlox | paniculata-hybr | Monica Linden Bell | 2L |
| Phlox | paniculata-hybr | Prince of Orange | 2L |
| Phlox | subulata | Bavaria | 9k |
| Phlox | subulata | Coral Eye | 9k |
| Phlox | subulata | Candy Stripe | 1L |
| Phlox | subulata | Drummond Pink | 9k |
| Phlox | subulata | Emerald Cushion Blue | 9k |
| Phlox | subulata | Mc Daniel's Cushion | 9k |
| Phlox | subulata | Scarlet Flame | 9k |
| Phlox | subulata | White Delight | 9k |
| Physalis | allekengi | franchettii | 2L |
| Plumbago | | Escapade Blue | 10F |
| Polemonium | caeruleum | Bressingham Purple | 2L |
| Polemonium | caeruleum | Brise d'Anjou | 2L |
| Potentilla | nepalensis | Miss Wilmott | 2L |
| Potentilla | thuberi | Monarch's Velvet | 2L |
| Primula | vulgaris | Primrose | 9k |
| Primula | x pubescens | Auricula | 9k |
| Primula | | Bellarina Mied | 1L |
| Primula | | Hallbarn Blue | 1L |
| Primula | | Kennedy Avonvale | 1L |
| Prostranthera | rotundifolia | | 7.5L |
| Pulmonaria | x hybrida | Blue Ensign | 2L |
| Pulmonaria | x hybrida | Blue Ensign | 2L |
| Pulmonaria | x hybrida | Blue Ensign | 2L |
| Pulmonaria | x hybrida | Diana Clare | 2L |
| Pulmonaria | x hybrida | Ice Ballet | 2L |
| Pulmonaria | x hybrida | Opal | 2L |
| Pulmonaria | x hybrida | Raspberry Splash | 2L |
| Rodgersia | | Bronze Peacock | 2L |
| Rodgersia | | Bronze Peacock | 5L |
| Rosmarinus | officionalis | | 2L |
| Rosmarinus | officionalis | Green Ginger | 9k |
| Rosmarinus | officionalis | Prostrata | 2L |
| Rosmarinus | officionalis | Severn Sea | 2L |
| Rosmarinus | officionalis | Sunkissed | 2L |
| Rudbeckia | | Goldsturm | 2L |
| Rudbeckia | | Goldsturm | 2L |
| Rudbeckia | | Goldsturm | 2L |
| Salvia | argentea | | 3L |
| Salvia | chamaedris | | 2L |
| Salvia | greggii | Amethyst Lips | 2L |
| Salvia | greggii | Caramba | 2L |
| Salvia | greggii | Emperor | 2L |
| Salvia | greggii | Joy | 2L |
| Salvia | greggii | Mirage Blue | 2L |
| Salvia | greggii | Mirage Deep Purple | 2L |
| Salvia | greggii | Mirage Hot Pink | 2L |
| Salvia | greggii | Mirage Soft Pink | 2L |
| Salvia | greggii | Mirage White | 2L |
| Salvia | greggii | Neon | 2L |
| Salvia | greggii | Peter Vidgeon | 2L |
| Salvia | greggii | Peter Vidgeon | 2L |
| Salvia | greggii | Royal Bumble | 2L |
| Salvia | greggii | Royal Bumble | 2L |
| Salvia | greggii | So Cool Violet | 2L |
| Salvia | greggii | Violin Music | 2L |
| Salvia | involucrata | Mulberry Jam | 2L |
| Salvia | microphylla | | 2L |
| Salvia | microphylla | Hot Lips | 2L |
| Salvia | microphylla | Lutea | 2L |
| Salvia | microphylla | Neurepia | 2L |
| Salvia | microphylla | Trebah | 2L |
| Salvia | nemorosa | Blue Bouquetta | 2L |
| Salvia | nemorosa | Caradonna | 2L |
| Salvia | nemorosa | Eveline | 2L |
| Salvia | nemorosa | Feathers Flamingo | 2L |
| Salvia | nemorosa | Lyrical White | 2L |
| Salvia | nemorosa | Marvel Blue | 2L |
| Salvia | nemorosa | Marvel Rose | 2L |
| Salvia | nemorosa | May Night | 2L |
| Salvia | nemorosa | Ostfriesland | 2L |
| Salvia | nemorosa | Pink Beauty | 2L |
| Salvia | nemorosa | Salvatore Blue | 2L |
| Salvia | nemorosa | Sensation Deep Rose | 2L |
| Salvia | officionalis | Growers Friend | 9cm |
| Salvia | officionalis | Icterina | 9cm |
| Salvia | officionalis | Purpurescens | 9cm |
| Salvia | officionalis | Purpurescens | 3L |
| Salvia | officionalis | Tricolour | 9k |
| Salvia | uliginosa | | 2L |
| Salvia | uliginosa | | 5L |
| Salvia | uliginosa | African Skies | 2L |
| Salvia | uliginosa | African Skies | 5L |
| Salvia | x jamensis | Hot Lips | 3L |
| Salvia | x jamensis | Violette de Loire | 3L |
| Salvia | x jamensis | Violin Music | 3L |
| Santolina | chamaecyparissus | Nana | 2L |
| Santolina | chamaecyparissus | Lemon Fizz | 2L |
| Santolina | virens | | 2L |
| Saponaria | ocymoides | Pink | 9k |
| Saponaria | ocymoides | Snow Tip | 9k |
| Sarcococca | confusa | | 3L |
| Sarcococca | confusa | | 3L |
| Saxifraga | x arendsii | Carpet Pink | 1L |
| Scabiosa | caucasica | Blue Note | 9k |
| Scabiosa | caucasica | Fama Deep Blue | 2L |
| Scabiosa | caucasica | Fama White | 2L |
| Scabiosa | caucasica | Flutter Rose Pink | 2L |
| Scabiosa | caucasica | Flutter White | 2L |
| Scabiosa | caucasica | Pink Diamonds | 9k |
| SCHIZOSTYLIS | | SEE HESPERANTHA . | |
| Scilla | peruviana | | 1.5L |
| Sedum | (Telephium) | Eline | 2L |
| Sedum | (Telephium) | Frosted Fire | 2L |
| Sedum | (Telephium) | Jennifer | 2L |
| Sedum | (Telephium) | Jennifer | 2L |
| Sedum | (Telephium) | Matrona | 2L |
| Sedum | (Telephium) | Purple Emperor | 2L |
| Sedum | linare | Variegatum | 9cm |
| Sedum | reflexum | Aureum | 9cm |
| Sedum | spathulifolium | Purpureum | 9cm |
| Sedum | spurium | Dragon's Blood | 9cm |
| Sempervivum | | Mixed | 9F |
| Senecio | candida | Angel Wings | 3L |
| Sidalcea | candida | Bianca | 2L |
| Sidalcea | candida | Elsie Heugh | 2L |
| Solidago | rugosa | Fireworks | 7.5L |
| Stachys | byzantina | | 2L |
| Stachys | byzantina | | 3L |
| Stachys | byzantina | | 7.5L |
| Stachys | byzantina | Silver Carpet | 2L |
| Stachys | byzantina | Silver Carpet | 7.5L |
| Stachys | byzantina | Summer Crush | 2L |
| Stachys | byzantina | Summer Romance | 2L |
| Stachys | thumbergii | Danielle | 9k |
| Symphotrichum | | was ASTER | |
| Symphotrichum | frikartii | Monch | 2L |
| Symphotrichum | frikartii | Monch | 3L |
| Symphotrichum | novae-angliae | Alma Potsche | 2L |
| Symphotrichum | novae-angliae | September Ruby | 9k |
| Symphotrichum | novae-belgii | Mystery Lady | 2L |
| Symphotrichum | x dumosus | Jewels Rose Crystal | 2L |
| Symphotrichum | x dumosus | Jewels Rose Quartz | 2L |
| Symphotrichum | x dumosus | Jewels Sapphire | 2L |
| Symphotrichum | xcordifolius | Little Carlow | 2L |
| Symphytom | officionale | Comphrey | 3L |
| Tanacetum | coccineum | Robinson's Red | 2L |
| Thalictrum | delavayi | Black Stockings | 2L |
| Thalictrum | delavayi | Hewitt's Double | 2L |
| Thalictrum | delavayi | Little Pinkie | 2L |
| Thalictrum | delavayi | Nimbus Pink | 2L |
| Thalictrum | delavayi | Nimbus White | 2L |
| Thalictrum | delavayi | Splendide White | 2L |
| Thalictrum | flavum | Glaucum | 2L |
| Tiarella | wherryi | Pink Sky Rocket | 2L |
| Tigridia | orthantha | Red Hot Tiger | 2L |
| Tradescantia | | Concorde Grape | 2L |
| Trifolium | repens | Purpurescens | 9cm |
| Trifolium | repens | Red Dragon | 9cm |
| Trollius | cultorum | Alabaster | 2L |
| Trollius | cultorum | Cheddar | 2L |
| Tulbaghia | violacea | Lavender Lace | 2L |
| Tulbaghia | violacea | Silver Lace | 3L |
| Verbascum | bombycyferum | Arctic Summer | 3L |
| Verbascum | | Honey Dijon | 3L |
| Verbascum | | Plum Smokey | 3L |
| Verbascum | | Violetta | 2L |
| Verbena | bonariensis | | 3L |
| Verbena | bonariensis | Lollipop | 3L |
| Veronica | hybrid | Moody Blues Dark Blue | 2L |
| Veronica | hybrid | Moody Blues Dark Pink | 2L |
| Veronica | hybrid | Moody Blues White | 2L |
| Veronica | hybrid | Red Fox | 2L |
| Veronica | hybrid | Royal Candles | 2L |
| Veronica | peduncularis | Georgia Blue | 9k |
| Veronica | prostrata | Nestor | 9k |
| Veronicastrum | virginicum | Album | 2L |
| Veronicastrum | virginicum | Erica | 2L |
| Vinca | major | | 3L |
| Vinca | major | maculata oxyloba | 3L |
| Vinca | minor | Alba | 2L |
| Vinca | minor | | 3L |
| Vinca | minor | Atropurpurea | 3L |
| Vinca | minor | Bowles Variety (La Grave) | 2L |
| Vinca | minor | Bowles Variety (La Grave) | 3L |
| Vinca | minor | Evelyne | 2L |
| Vinca | minor | Ralph Shugart | 3L |
| Viola | cornuta | Martin | 9k |
| Viola | corsica | | 9k |
| Viola | labradorica | | 9k |
| Viola | odorata | Miracle Blue | 1.5L |
| Viola | odorata | Queen Charlotte | 1L |
| Viola | sororia | Sorority Sisters | 9K |
| Viola | tricolour | Wild Pansy, Heart's Ease | 9k |
| Zantedeschia | aethiopica | Crowborough | 3L |
| Zantedeschia | aethiopica | Crowborough | 3L |
| Zantedeschia | aethiopica | Glencoe | 3L |
| Zantedeschia | x rehmannii | Nightclub | 2L |
| Zauscherina | californica | Dublin | 3l |