Hanging Baskets and Containers
Ready filled or tailor-made – you choose…

Ready filled hanging baskets and planters are available all summer in a range of sizes and colours.
Alternatively, we can fill your own containers to your specifications. You can book these in from April onward, by speaking to a member of staff.  For your Spring hanging basket to be available for collection end May, let us have your order ideally by mid-May at the latest for the basket to have had the best opportunity of success.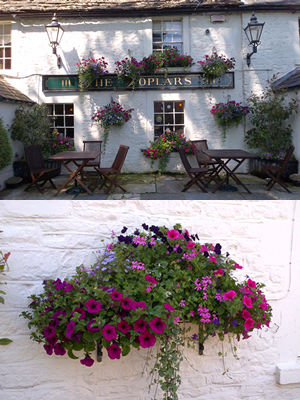 Winter hanging baskets can be very successful provided they are planted in September so they are well established before the bad weather. This should be long before your summer ones have given up, so it is well worthwhile having two sets of baskets. Just bring us back your empty baskets when ordering your next season's display. You can choose from rattan or wire baskets.
The baskets you buy from us will all have been given long-term fertiliser. With regular watering and feeding, your summer basket should last you until the first frost.  To get the best from your basket, just follow these tips, using a balanced feed product.
feed once a week in June, twice a week in July, three times a week in August
feed every single time you water from September onwards.
Stuck for that gift?  One of our baskets or containers will give weeks of pleasure to its recipient, lasting so much longer than freshly cut flowers.
Our local calcareous soil makes it difficult for lime-hating plants such as rhododendrons, azaleas, and camellias to thrive when planted.  A container is the perfect way to give you a great display of these wonderful plants.
Thanks to our local pubs, The New Inn, The Lock Inn  and The Poplars for sharing these great pictures.