Ornamental Trees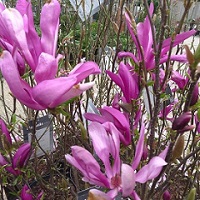 We offer a great selection of ornamental trees in terms of variety and size. And for great Autumn planting, why not pre-order your favourites for bare rooted planting in November? We have container-grown all year round.
Tree Sizes approximately are:
Small – up to 4m (13 ft)
Medium – up to 6m (20ft)
Large is over 6m (20ft)
Our nursery is very much geared up to personal shopping and unfortunately, we are not able to send plants and trees out to customers.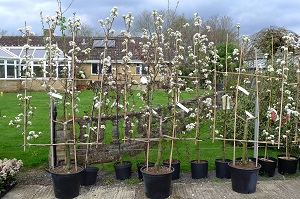 Top Worked (TW) signifies it is a plant grafted on to stronger rootstock. This may be to give a stronger stem or sometimes an ornamental stem.
Location: Trees are around the yard and outside in the growing beds beyond the polytunnels.
Downside Nurseries Ornamental Tree List as at March 2022
Please remember that the list below is correct as at March 2022, but not all of these plants may be available on the day of your visit
If you'd like to download this page, please click here
| | | | |
| --- | --- | --- | --- |
| Genus | Species | Variety | Pot Size |
| Acer | campestre | 60-80 cm | B/R |
| Acer | campestre | M . | 5L |
| Acer | campestre | M . | 7LD |
| Acer | campestre | M . | 7LD |
| Acer | campestre | M . | 15L |
| Acer | davidii | S Serpentine | 7L |
| Acer | davidii | S Serpentine | 12L |
| Acer | davidii | S Viper 'mindavi | 7L |
| Acer | griseum | S . | 12L |
| Acer | negundo | M Flamingo | 20L |
| Acer | palmatum diss. | VS Atropurpurea | 5L |
| Acer | palmatum diss. | VS Bihoo | 7.5L |
| Acer | palmatum diss. | S Bloodgood | 10L |
| Acer | palmatum diss. | VS Garnet | 5L |
| Acer | palmatum diss. | V SInaba -Shidare | 10L |
| Acer | palmatum diss. | VS Kotohime | 7.5L |
| Acer | palmatum diss. | VS Orange Dream | 5L |
| Acer | palmatum diss. | VS Orange Dream | 5L |
| Acer | palmatum diss. | VS Red Wine | 90L |
| Acer | palmatum diss. | VS Sango-kaku | 5L |
| Acer | palmatum diss. | VS Sango-kaku | 7.5L |
| Acer | palmatum diss. | VS Seiryu | 10L |
| Acer | palmatum diss. | VS Shaina | 89L |
| Acer | palmatum diss. | VS Skeeter's Broom | 10L |
| Acer | platinoides | M Crimson King | 12L |
| Acer | platinoides | M Drummondii | 12L |
| Acer | platinoides | M Princeton Gold | 12L |
| Acer | pseudoplatinus | TW 120cm Prince Handjery | 12L |
| Acer | pseudosiebold. | S Ice Dragon | 10L |
| Acer | pseudosiebold. | S Northwind | 10L |
| Acer | rubrum | L Brandywine | 12L |
| Acer | rubrum | M October Glory | 12L |
| Acer | rubrum | M Red Sunset | 12L |
| Acer | rubrum | M Scanion | 12L |
| Acer | rubrum | M Sun Valley | 12L |
| Acer | shirasawanum | S Aureum | 5L |
| Acer | shirasawanum | S Aureum | 5L |
| Acer | x conspicuum | S Red Flamingo | 12L |
| Acer | x conspicuum | S Silver Vein | 20L |
| Acer | x conspicuum | S Silver Vein | 20L |
| Acer | x freemanii | M Autumn Blaze | 12l |
| Acer | x freemanii | M Morgan | 12L |
| Albizia | julibrissin | S Evy'sPride | 12L |
| Albizia | julibrissin | S Ombrella | 3L |
| Albizia | julibrissin | S Rouge Selection | 3L |
| Alnus | | Common Alder hedging | B/R |
| Amelanchier | canadensis | Glenform Rainbow Pillar | 12L |
| Amelanchier | laevis | S Snow Flakes | 7L |
| Amelanchier | laevis | S Snow Flakes | 12L |
| Amelanchier | lamarckii | S . | 7.5L |
| Amelanchier | lamarckii | S . | 12L |
| Amelanchier | x grandiflora | S Ballerina | 7.5L |
| Amelanchier | x grandiflora | S Ballerina | 12L |
| Betula | alba | Pendla, Native Silver Birch Multistem | 20L |
| Betula | albosinensis | M Fascination | 12L |
| Betula | apoiensis | VS 10ft Mount Apoi | 12L |
| Betula | ermanii | M Grayswood Hill | 10L |
| Betula | hybrid | M Fetsowii | 12L |
| Betula | lenta | L Sweet Birch | 12L |
| Betula | pendula | Birch Whips | B/R |
| Betula | pendula | M Dalecarlica | 12L |
| Betula | pendula | M Fastigiata Jones | 12L |
| Betula | pendula | M Royal Frost | 12L |
| Betula | pendula | M Tristis | 12L |
| Betula | pendula | M Youngii | 12L |
| Betula | utilis | M Edinburgh | 12L |
| Betula | utilis | M Forest Blush | 12L |
| Betula | utilis | M Grayswood Ghost | 12L |
| Betula | utilis | M Jacq. Silver Shadow | 15L |
| Betula | utilis | M Snow Queen | 12L |
| Betula | utilis | M Snow Queen (multistem) | 12L |
| Betula | utilis | S Moonbeam | 12L |
| Betula | utilis | M (Triple) Jacquemontii | 70L |
| Betula | utilis | M (Triple) Jacquemontii | 70L |
| Carpinus | betulus | Hornbeam whips | B/R |
| Carpinus | betulus | L Hornbeam | 7.5L |
| Carpinus | betulus | L Hornbeam | 7.5L |
| Carpinus | betulus | L Hornbeam | 10L |
| Carpinus | betulus | L Hornbeam | 12L |
| Carpinus | betulus | L Hornbeam | 12L |
| Carpinus | betulus | L Hornbeam | 12L |
| Carpinus | betulus | L Hornbeam | 20L |
| Carpinus | betulus | L Pleached Hornbeam | 180L |
| Carpinus | betulus | M Rockhampton Red | 12L |
| Catalpa | bignoniodes | Aurea | 12L |
| Cercidiphyllum | japonicum | S . | 7.5L |
| Cercidiphyllum | japonicum | S . | 12L |
| Cercis | canadensis | S Forest Pansy | 12L |
| Cercis | canadensis | S Pink Pom Pom | 12L |
| Cercis | canadensis | S Ruby Falls | 12L |
| Cercis | canadensis | S Vanilla Twist | 12L |
| Cercis | chinensis | S Avondale | 12L |
| Cercis | reniformis | S Texas White | 12L |
| Clereodendron | trichotomum | | 12L |
| Cornus | kousa | S Milky Way | 12L |
| Cornus | kousa | S Teutonia | 12L |
| Cornus | mas | S Kasaniak | 12L |
| Cotoneaster | salicifolius | S Exburiensis | 12L |
| Crataegus | arnoldiana | S . | 12L |
| Crataegus | laevigata | S Crimsom Cloud | 12L |
| Crataegus | laevigata | S Mutabilis Ravenholdt | 15L |
| Crataegus | laevigata | S Paul's Scarlet | 12L |
| Crataegus | laevigata | S Paul's Scarlet | 15L |
| Crataegus | laevigata | S Rosea Flore Plena | 12L |
| Crataegus | laevigata | S Plena | 15L |
| Crataegus | pinnatifida major | S Big Golden Star | 12L |
| Crataegus | x laevigata | S Carrierei | 12L |
| Elaeagnus | angustifolia | S Quicksilver | 12L |
| Eriobotrya | japonica | M Copper Tone | 11.5L |
| Eriobotrya | japonica | 90/100cm stem Loquat | 18L |
| Eucalyptus | gunnii | L . | 3L |
| Eucalyptus | gunnii | M Silverana | 20L |
| Euonymus | hamiltoneanus | S Indian Summer | 12L |
| Euonymus | hamiltoneanus | S Koi Boy | 12L |
| Euonymus | phellomanus | | 12L |
| Fagus | sylvatica | Green Beech whips 60/80 cm | B/R |
| Fagus | sylvatica | L Green Beech | 12L |
| Fagus | sylvatica | M Dawyck Gold | 12L |
| Fagus | sylvatica | M Dawyck Purple | 12L |
| Fagus | sylvatica | L Purple Fountain | 12L |
| Fagus | sylvatica | M Pendula | 12L |
| Fagus | sylvatica | L Purpurea | 3L |
| Fagus | sylvatica | L Purpurea | 30L |
| Fagus | sylvatica | M Purpurea Tricolour | 12L |
| Fagus | sylvatica | L Riversii | 12L |
| Gingko | biloba | | 7LD |
| Gingko | biloba | S Blagon | 3L |
| Gingko | biloba | S Blagon | 7LD |
| Gingko | biloba | M Menhir | 7LD |
| Gleditsia | tricanthos | Sunburst | 35L |
| Koelreuteria | paniculata | S Coral Sun | 10L |
| Koelreuteria | paniculata | S Coral Sun | 10L |
| Laburnum | anagyroides | S Yellow Rocket | 12L |
| Laburnum | watereri | S Vossii | 12L |
| Liquidamber | styraciflua | M . | 7L |
| Liquidamber | styraciflua | M . | 12L |
| Liquidamber | styraciflua | M Palo Alto | 12L |
| Liquidamber | styraciflua | M Slender Silhouette | 12L |
| Liquidamber | styraciflua | S Stared | 12L |
| Liquidamber | styraciflua | M Worpelston | 12L |
| Liquidamber | styraciflua | M Worpelston | 25L |
| Liriodendron | tulipifera | L Snow Bird | 7L |
| Liriodendron | tulipifera | L Snow Bird | 12L |
| M27 Malus | sylvestris | Crab Apple 60-80 cm | B/R |
| M27 Malus | xrobusta | Patio Red Sentinel | 11.5L |
| M27 Malus | | Patio Evereste | 11.5L |
| M27 Malus | | Patio Pink Glow | 11.5L |
| Malus | coronaria | S Elk River | 12L |
| Malus | huphensis | S . | 12L |
| Malus | huphensis | M Cardinal | 15L |
| Malus | moerlandsii | M Profusion Improved | 12L |
| Malus | toringo | S Scarlett | 15L |
| Malus | | Patio Butterball | 11,5L |
| Malus | | S Butterball | 12L |
| Malus | | S Candymint | 12L |
| Malus | | Patio TW Cinderella | 11.5L |
| Malus | | PatioTW Coralburst | 11.5L |
| Malus | | S Gorgeous | 12L |
| Malus | | S Indian Magic | 12L |
| Malus | | S Jelly King | 7L |
| Malus | | S Jelly King | 12L |
| Malus | | S John Downie | 15L |
| Malus | | S Laura | 7L |
| Malus | | S Prairie Fire | 12L |
| Malus | | S Royalty | 15L |
| Malus | | S Wedding Bouquet | 12L |
| Malus | | S Scarlet Brandywine | 12L |
| Metasequoia | glyptostroboides | (Dawn Redwood) | 7LD |
| Metasequoia | glyptostroboides | Gold Rush | 12L |
| Metasequoia | glyptostroboides | Matthaei | 3L |
| Parrotia | persica | | 12L |
| Parrotia | persica | | 15L |
| Parrotia | persica | Vanessa | 7LD |
| Paulownia | tomentosa | M . | 12L |
| Prunus | avium | M Wild Cherry | B/R |
| Prunus | avium | M Wild Cherry | 12L |
| Prunus | avium | M Plena | 12L |
| Prunus | cerasifera | S Crimson Pointe | 12L |
| Prunus | incisa | TW 45cm Kojo-no-mai | 11.5L |
| Prunus | incisa | TW 90 cm Pendula | 11.5L |
| Prunus | incisa | TW 90 cm Pendula | 11.5L |
| Prunus | mume | TW 45cm Beni -chidore | 11.5L |
| Prunus | padus | S Pandora | 15L |
| Prunus | padus | S Pandora | 12L |
| Prunus | pendula | S Pendula Rubra | 12L |
| Prunus | serrulata | Kiku- shidare- zakura syn. Cheal's Weeping | |
| Prunus | serrulata | S Cheal's Weeping | 7L |
| Prunus | subhirtilla | S Autumnalis | 12L |
| Prunus | subhirtilla | S Autumnalis Rosea | 12L |
| Prunus | x hybrida | S Accolade | 12L |
| Prunus | x hybrida | S Amanogawa | 7L |
| Prunus | x hybrida | S Amanogawa | 12L |
| Prunus | x hybrida | TW 45cm Asano | 11.5L |
| Prunus | x hybrida | S Asano | 12L |
| Prunus | x hybrida | M Beni-yutaka | 12L |
| Prunus | x hybrida | S Blushing Bride | 12L |
| Prunus | x hybrida | M Chocolate Ice | 12L |
| Prunus | x hybrida | M Fragrant Cloud | 12L |
| Prunus | x hybrida | TW 120 cm Frilly Frock | 12L |
| Prunus | x hybrida | TW 90cm Frilly Frock | 12L |
| Prunus | x hybrida | S Frilly Frock | `12L |
| Prunus | x hybrida | S Jaqueline | 12L |
| Prunus | x hybrida | TW 45cm Mikinori | 11.5L |
| Prunus | x hybrida | S Okame | 12L |
| Prunus | x hybrida | S Pandora | 12L |
| Prunus | x hybrida | M Pink Parasol | 12L |
| Prunus | x hybrida | TW 45cm Little Pink Perfection | 15L |
| Prunus | x hybrida | S Pink Perfection | 12L |
| Prunus | x hybrida | S PowderPuff (Koboku-zakura) | 12L |
| Prunus | x hybrida | S Royal Burgundy | 12L |
| Prunus | x hybrida | S Snow Showers | 12L |
| Prunus | x hybrida | M Tai-haku | 7L |
| Prunus | x hybrida | TW 45cm The Bride | 11.5L |
| Prunus | x hybrida | S The Bride | 12L |
| Prunus | x hybrida | M Trailblazer | 12L |
| Prunus | x persicoides | S Spring Glow | 12L |
| Prunus | x subhirtella | S Autumnalis Rosea | 12L |
| Prunus | x yedoensis | S Weeping Yoshino | 12L |
| Prunus | x yedoensis | S Weeping Yoshino | 15L |
| Prunus | x yedoensis | TW 45cm Yamadei | 11.5L |
| Pyrus | calleryana | M Chanticleer | 7L |
| Pyrus | calleryana | M Chanticleer | 12L |
| Pyrus | salicifolia | TW 120cm Pendula | 12L |
| Pyrus | salicifolia | TW 80cm Pendula | 10L |
| Pyrus | salicifolia | M Pendula | 12L |
| Quercus | ilex | L Evergreen Oak | 10L |
| Quercus | robur | Common Oak whips | B/R |
| Robinia | pseuduacacia | Frisia | 2L |
| Robinia | pseuduacacia | TW 80cm Lace LadyTwisty Babe | 12L |
| Robinia | x margaretta | Pink Cascade | 2L |
| Salix | alba | Britzensis | 4LD |
| Salix | alba | Britzensis | 12L |
| Salix | alba | S Golden Ness | 12L |
| Salix | alba | M Tristis (Weeping Willow) | 12L |
| Salix | alba | M Tristis (Weeping Willow) | 12L |
| Salix | alba | M Tristis (Weeping Willow) | 12L |
| Salix | caprea | TW 90cm Pendula | 10L |
| Salix | caprea | TW 120cm Pendula | 12L |
| Salix | caprea | TW 60cm Pendula Kilmarnock | 3L |
| Salix | integra | TW 60cm Hakuro-Nishiki | 3L |
| Salix | integra | TW 100cm Hakuro-Nishiki | 7LD |
| Salix | integra | TW120cm Hakuro-Nishiki | 5L |
| Sorbus | aucuparia | Mountain Ash whips 60/80 cm | B/R |
| Sorbus | aucuparia | M . | 12L |
| Sorbus | aucuparia | S Autumn Spire | 7LD |
| Sorbus | aucuparia | S Autumn Spire | 12L |
| Sorbus | aucuparia | M Eastern Promise | 12L |
| Sorbus | aucuparia | S Croft Coral | 12L |
| Sorbus | aucuparia | S columnar Glendoick Spire | 7L |
| Sorbus | aucuparia | S columnar Glendoick Spire | 12L |
| Sorbus | aucuparia | S Glendoick White Baby | 7L |
| Sorbus | aucuparia | S Joseph Rock | 12L |
| Sorbus | aucuparia | S Pink Ness | 12L |
| Sorbus | aucuparia | S Pink Pearl | 12L |
| Sorbus | aucuparia | S Sunshine | 12L |
| Sorbus | aucuparia | M Wisley Gold | 12L |
| Sorbus | commixta | S . | 15L |
| Sorbus | folgneri | S Emil | 7L |
| Sorbus | hemsleyi | S John Bond | 12L |
| Sorbus | huphensis | S . | 12L |
| Sorbus | huphensis | S Pink Pagoda | 15L |
| Sorbus | koehneana | S White Wax | 12L |
| Sorbus | rosea | S Rosiness | 3LD |
| Sorbus | ullengensis | S columnar Olympic Flame | 15L |
| Sorbus | vilmorinii | S . | 12L |
| Stewartia | pseudocamellia | M . | 10L |
| Tillia | henryana | M Arnold's Select | 12L |
| Toona | sinensis | S Flamingo | 12L |
| Ulmus | x | L Wingham | 12L |
| Ulmus | | VS Jaqueline Hillier | 7.5L |