Ornamental Trees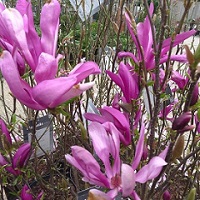 We offer a great selection of ornamental trees in terms of variety and size. And for great Autumn planting, why not pre-order your favourites for bare-rooted planting in November? We have container-grown all year round.
Tree Sizes run from VS/S/M/L and their sizes approximately are:
Small – up to 4m (13 ft)
Medium – up to 6m (20ft)
Large is over 6m (20ft)
Our nursery is very much geared up to personal shopping and unfortunately, we are not able to send plants and trees out to customers.
Stem = Lollipop = Topiary Standards
Patio – small, suitable for growing in a pot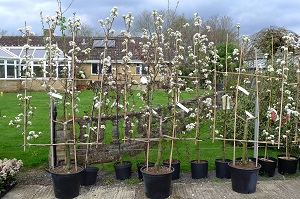 Top Worked (TW) signifies it is a plant grafted on to stronger rootstock. This may be to give a stronger stem or sometimes an ornamental stem.
Trees Location: Trees are around the yard and outside in the growing beds beyond the polytunnels.

Fruit Trees Location: Fruit Trees can generally be found in the first two bays of the standing-out ground
Plant List –

Trees & Ornamental Trees

April 2023

Please remember that the plant list is correct as at April 2023, but not all plants may be available on the day of your visit

If you'd like to download this page, please click here