Trees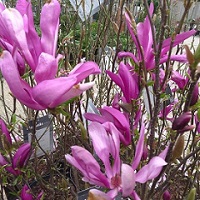 We offer a great selection of ornamental trees in terms of variety and size. And for great Autumn planting, why not pre-order your favourites for bare rooted planting in November? We have container-grown all year round.
Tree Sizes approximately are:
Small  – up to 4m (13 ft)
Medium – up to 6m (20ft)
Large is over 6m (20ft)
Our nursery is very much geared up to personal shopping and unfortunately, we are not able to send plants and trees out to customers.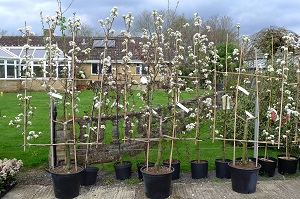 Top Worked (TW) signifies it is a plant grafted on to stronger rootstock. This may be to give a stronger stem or sometimes an ornamental stem.
Location: Trees are generally found around the yard and also growing in the beds at the far end of the nursery beyond the shrubs.
Downside Nurseries Tree List as at 01 April 2021
This year we are unable to give details for Trees because our stocks are diminishing rapidly and we cannot obtain further supplies this season.
Please visit to make your selection as soon as possible.
Acer
Aesculus
Albizia
Amelanchier
Betula
Carpinus
Cercidiphyllum
Cercis
Clerodendron
Cornus
Cotoneaster
Crategus
Elaeagnus
Eriobotrya
Eucalyptus
Fagus
Gingko
Gleditsia
Koelreuteria
Laburnum
Liquidamber
Liriodendron
Loquat
M27 Malus
Magnolia
Malus
Metasequoia
Nyssa
Parrotia
Parrotia
Paulownia
Prunus
Pyrus
Quercus
Rhus
Salix
Sorbus
Stewartia
Tillia
Toona
Trachelospermum