Trees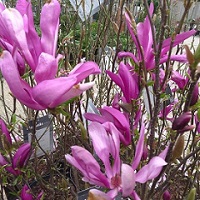 We offer a great selection of ornamental trees in terms of variety and size. And for great Autumn planting, why not pre-order your favourites for bare rooted planting in November? We have container-grown all year round. Please see our list of Fruit Trees here.
Tree Sizes approximately are:
Small  – up to 4m (13 ft)
Medium – up to 6m (20ft)
Large is over 6m (20ft)
Our nursery is very much geared up to personal shopping and unfortunately, we are not able to send plants and trees out to customers. The only exception to this will be for trained fruit trees and ornamental trees. If you order and pay for your chosen items by 30th June, we will be able to get these delivered directly to you directly from the grower during September, subject to availability.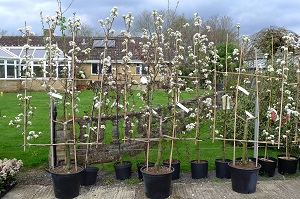 Top Worked (TW) signifies it is a plant grafted on to stronger root stock. This may be to give a stronger stem or sometimes an ornamental stem.
Email us if of interest.
Location: Trees are generally found around the yard and also growing in the beds at the far end of the nursery beyond the shrubs.
If you'd like to download an Excel of this page, please click here
| | | | |
| --- | --- | --- | --- |
| Genus | Species | Variety | Pot Size |
| Acer | campestre | | 15L |
| Acer | campestre | | 15L |
| Acer | campestre | | 30L |
| Acer | griseum | | 12L |
| Acer | japonicum | Aconitifolium | 15LTC |
| Acer | negundo | Flamingo M | 12L |
| Acer | negundo | Flamingo M | 12L |
| Acer | palmatum diss. | Atropurpurea | 240L |
| Acer | palmatum diss. | Atropurpurea | 3L |
| Acer | palmatum diss. | Garnet | 35L |
| Acer | palmatum diss. | Garnet | 90L |
| Acer | palmatum diss. | Viridis (stem) | 15L |
| Acer | palmatum diss. | Beni Maiko | 3L |
| Acer | palmatum diss. | Beni Schichihenge | 8.5L |
| Acer | palmatum diss. | Bihoo | 3L |
| Acer | palmatum diss. | Bloodgood | 4L |
| Acer | palmatum diss. | Butterfly | 3L |
| Acer | palmatum diss. | Deshojo | 4L |
| Acer | palmatum diss. | Emerald Lace | 3L |
| Acer | palmatum diss. | Fireglow | 15L |
| Acer | palmatum diss. | Going Green | 3L |
| Acer | palmatum diss. | Green Umbrella | 3L |
| Acer | palmatum diss. | Jerre Schwartz | 7.5L |
| Acer | palmatum diss. | Jerre Schwartz (stem) | 15L |
| Acer | palmatum diss. | Jerre Schwartz (stem) | 15L |
| Acer | palmatum diss. | Little Princess | 3L |
| Acer | palmatum diss. | Orange Dream | 8.5L |
| Acer | palmatum diss. | Red Wine | 90L |
| Acer | palmatum diss. | Sango-kaku | 7.5L |
| Acer | palmatum diss. | Sango-kaku | 8/5L |
| Acer | palmatum diss. | Sango-kaku | 15LTC |
| Acer | palmatum diss. | Seiryu | 3L |
| Acer | palmatum diss. | Shaina | 3L |
| Acer | palmatum diss. | Shaina | 90L |
| Acer | palmatum diss. | Sumi Magashi | 90L |
| Acer | palmatum diss. | Trompenburg | 3L |
| Acer | palmatum diss. | Wilsons Pink Dwarf | 3L |
| Acer | platinoides | Crimson King | 30L |
| Acer | platinoides | Drummondii | 15L |
| Acer | platinoides | Princetown Gold | 15L |
| Acer | pseudoplatinus | Prince Handjery TW 120 cm | 12L |
| Acer | shirasawanum | Aureum | 3L |
| Acer | shirasawanum | Jordan | 7.5L |
| Acer | shirasawanum | Jordan | 90L |
| Acer | shirasawanum | Jordan (stem) | 15L |
| Acer | x conspicuum | Phoenix | 7L |
| Aesculus | x carnea | Briotii | 30L |
| Albizia | julibrissin | Evy'sPride | 20L |
| Albizia | julibrissin | Rouge Selection | 3L |
| Alnus | glutinosa | Imperialis | |
| Amelanchier | alnifolia | Obelisk S | 12L |
| Amelanchier | laevis | Snowflake S | 12L |
| Amelanchier | lamarckii | S                                           . | 15L |
| Amelanchier | lamarckii | S                                           . | 12L |
| Amelanchier | lamarckii | Multistem S | 50L |
| Amelanchier | x grandiflora | Ballerina S | 12L |
| Amelanchier | x grandiflora | Robin Hill S | 12L |
| ARTICHOKE | | SEE CYNARA | |
| ARTICHOKE | | SEE CYNARA | |
| ASPLENIUM | SCOLOPENDRIUM | SEE PHYLLITIS SCOLOPENDRIUM | |
| ASTER | | SEE SYMPHOTRICHIUM     . | |
| Betula | alba | Native Birch M | 15l |
| Betula | apoiensis | Mount Apoi VS 10ft | 15L |
| Betula | papyfera | | 20L |
| Betula | papyfera | | 20L |
| Betula | pendula | Karaca M | 12L |
| Betula | pendula | Royal Frost M | 12L |
| Betula | pendula | Youngii | 12L |
| Betula | pendula | Youngii | 20L |
| Betula | pendula | Youngii | 30L |
| Betula | utilis | Trinity College M | 12L |
| Betula | utilis | Jacquemontii (Doorenbos) M | 15L |
| Betula | utilis | Jacquemontii (Doorenbos) M | 20L |
| Betula | utilis | Dark-Ness  M | 12L |
| Betula | utilis | Grayswood Ghost M | 12L |
| Betula | utilis | (Triple) Jacquemontii M | 50L |
| Betula | utilis | Snow Queen (Doorenbos) M | 7.5L |
| Betula | utilis | Snow Queen (Doorenbos) M | 15L |
| Betula | utilis | Snow Queen (Doorenbos) M multi | 12L |
| Betula | utilis | Moonbeam S | 12L |
| Betula | utilis | Moonbeam S | 20L |
| Carpinus | betulus | L                                             . | 7.5L |
| Carpinus | betulus | Fastigiata (Hornbeam)   L | 100L |
| Carpinus | betulus | Pleached       (Hornbeam)  L | 180L |
| Catalpa | bignonioides | Aurea S | 7L |
| Catalpa | bignonioides | Aurea S | 12L |
| Catalpa | erubescens | Purpurea | 15L |
| Cercidiphyllum | japonicum | Rotfuchs S | 20L |
| Cercidiphyllum | japonicum | Rotfuchs S | 30L |
| Cercidiphyllum | japonicum | Rotfuchs S | 35L |
| Cercis | canadensis | Ruby Falls S | 12L |
| Cercis | canadensis | Royal White S | 35L |
| Cercis | canadensis | Forest Pansy S | 10L |
| Cercis | chinensis | Avondale S | 12L |
| Cercis | siliquastrum | S                                             . | 7.5L |
| Clereodendron | trichotomum | fargesii | 3L |
| Clereodendron | trichotomum | | 12L |
| Cornus | kousa | chinensis S | 7L |
| Cotoneaster | salicifolius | Gnom | 3L |
| Crataegus | arnoldiana | S                                              . | 30L |
| Crataegus | laevigata | Albo Plena S | 30L |
| Crataegus | laevigata | Paul's Scarlet S | 15L |
| Crataegus | laevigata | Crimsom Cloud S | 15L |
| Crataegus | monogyna | biflora S | 7L |
| Elaeagnus | angustifolia | Quicksilver | 12L |
| Eriobotrya | japonica | Loquat | 7.7L |
| Eriobotrya | japonica | Loquat (stem) | 40L |
| Eucalyptus | gunnii | L                                             . | 7L |
| Eucalyptus | gunnii | L                                             . | 15L |
| Eucalyptus | pauciflora | niphophila L | `10L |
| Eucalyptus | x gunnii | Azura     S | 15L |
| Euonymus | phelllomanus | | 12L |
| Fagus | sylvatica | Green Beech | B/R |
| Fagus | sylvatica | Green Beech | 5.5LD |
| Fagus | sylvatica | Green Beech? | 12L |
| Fagus | sylvatica | 10 for £16            Green Beech | B/R |
| Fagus | sylvatica | 10 for £24.00        Purpurea | B/R |
| Fagus | sylvatica | Purpurea 80cm | B/R |
| Fagus | sylvatica | heterophylla        Asplenifolia | 30L |
| Fagus | sylvatica | Purpurea L | 20L |
| Fagus | sylvatica | Purpurea L | 30L |
| Fagus | sylvatica | Dawyck M | 20L |
| Fagus | sylvatica | Dawyck M | 30L |
| Fagus | sylvatica | Dawyck Gold M | 15L |
| Fagus | sylvatica | Dawyck Gold M | 20L |
| Fagus | sylvatica | Dawyck Purple M | 12L |
| Fagus | sylvatica | Purpurea Tricolour M | 12L |
| Fagus | sylvatica | Purpurea Pendula S | 12L |
| Fagus | sylvatica | Purpurea Pendula S | 40L |
| Gingko | biloba | Beijing Gold | 7LD |
| Gingko | biloba | Blagdon | 7LD |
| Gingko | biloba | | 3L |
| Gleditsia | tricanthos | Sunburst | 12L |
| Koelreuteria | paniculata | Coral Sun S | 12L |
| Laburnum | anagyroides | Yellow Rocket S | 12L |
| Laburnum | watereri | Vossii S | 7L |
| Laburnum | watereri | Vossii S | 12L |
| Liquidamber | styraciflua | Thea S | 12L |
| Liquidamber | styraciflua | Corky S | 12L |
| Liquidamber | styraciflua | Stared S | 12L |
| Liquidamber | styraciflua | Slender Silhouette | 12L |
| Liquidamber | styraciflua | Slender Silhouette | 70L |
| Liquidamber | styraciflua | Worpelston | 70L |
| Liriodendron | tulipifera | L                                           . | 4L |
| Liriodendron | tulipifera | L                                           . | 7L |
| Liriodendron | tulipifera | Snow Bird L | 7L |
| Loquat | | (Eribotrya japonica) | 40L |
| Magnolia | | Daphne (deep yellow) L | 12L |
| Malus | huphensis | | 12L |
| Malus | toringo | Scarlett S | 15L |
| Malus | toringo | sargentii Tina (Patio) S | £11.50 |
| Malus | x cerasifera | Crimson Pointe | 12L |
| Malus | | Laura S | 15L |
| Malus | | Louisa S | 12L |
| Malus | | Royalty S | 10L |
| Malus | | Evereste S | 11.5L |
| Malus | | Butterball S | 15L |
| Malus | | Pink Glow S | 12L |
| Malus | | John Downie S | 15L |
| Malus | | John Downie S | 15L |
| Malus | | Red Sentinel S | 10L |
| Malus | | Wedding Bouquet S | 15L |
| Metasequoia | glyptostroboides | Schirmann's Nordlicht | 3L |
| Nyssa | sylvatica | Inferno M | 15L |
| Parrotia | persica | Felicia | 12L |
| Parrotia | persica | Felicia | 15L |
| Parrotia | persica | | 15L |
| Parrotia | persica | | 20L |
| Paulownia | tomentosa | M                                            . | 30L |
| Prunus | cerasifera | Nigra S | 20L |
| Prunus | cerasifera | mylrobolan S | |
| Prunus | cerasifera | Crimson Pointe S | 12L |
| Prunus | Padus | Le Thoureil | 7L |
| Prunus | serrula | Kanzan S | 15L |
| Prunus | serrula | Multistem  tibetica S | 70L |
| Prunus | serrula | S                                              . | 20L |
| Prunus | serrulata | Royal Burgundy TW serrula S | 20L |
| Prunus | serrulata | Royal Burgundy TW serrula S | 20L |
| Prunus | serrulata | Kiku- Shidare- Zakuru syn. Cheal's Weeping | |
| Prunus | serrulata | Taihaku(Great White Cherry) M | 20L |
| Prunus | serrulata | Amanogawa S | 20L |
| Prunus | serrulata | Amanogawa S | 30L |
| Prunus | serrulata | Amanogawa S | 35L |
| Prunus | serrulata | Royal Burgundy S | 12L |
| Prunus | serrulata | Cheal's Weeping S | 12L |
| Prunus | subhirtilla | Autumnalis Alba S | 12L |
| Prunus | subhirtilla | Autumnalis Rosea S | 15L |
| Prunus | subhirtilla | Autumnalis Rosea S | 15L |
| Prunus | x hybrida | Fugenzo S | 12L |
| Prunus | x hybrida | Okame S  (TW serrula) | 12L |
| Prunus | x hybrida | Snow Showers (TW120cm) | 12L |
| Prunus | x hybrida | The Bride (TW 45cm) | 11.5L |
| Prunus | x hybrida | Daikoku  S | 20L |
| Prunus | x hybrida | Pink Perfection S | 15L |
| Prunus | x hybrida | Royal Burgundy S | 15L |
| Prunus | x hybrida | Frilly Frock  S     TW 120cm | 20L |
| Prunus | x hybrida | Spring Snow | 12L |
| Prunus | x yedoensis | Ivensii | 20L |
| Pyrus | calleryana | Chanticleer M | 12L |
| Pyrus | salicifolia | Pendula M | 12L |
| Pyrus | salicifolia | Pendula M       TW 120 | 12L |
| Quercus | ilex | Evergreen Oak L | 10L |
| Quercus | ilex | Evergreen Oak L | 30L |
| Quercus | robur | English Oak   L | 15L |
| Quercus | robur | English Oak   L | 15L |
| Quercus | x. warei | Regal Prince L | 15L |
| Robinia | pseudoacacia | Lace Lady (Twisty Babe) | 12L |
| Robinia | xmargaretta |  Pink Cascade M | 12L |
| Salix | alba | Britzensis | 7LD |
| Salix | alba | Britzensis | 20L |
| Salix | alba | Tristis | 5.5LD |
| Salix | alba | Tristis | 30L |
| Salix | caprea | (shrub) | 20L |
| Salix | caprea | Pendula 100cm Std | 7L |
| Salix | caprea | Pendula 100cm Std | 10L |
| Salix | caprea | Pendula 120cm Std | 12L |
| Salix | caprea | Pendula 90cm Std | 10L |
| Salix | integra | Hakuro-Nishiki 100cm Std | 7L |
| Salix | integra | Hakuro-Nishiki 120cm Std | 12L |
| Salix | integra | Hakuro-Nishiki 60cm Std | 7.5L |
| Sorbus | aucuparia | Autumn Spire S | 15L |
| Sorbus | aucuparia | Glendoick White Baby S | 12L |
| Sorbus | disclor | | 12L |
| Sorbus | huphensis | Pink Pagoda | 15L |
| Sorbus | torminalis | | 15L |
| Sorbus | ullengensis | Olympic Flame S  columnar | 15L |
| Sorbus | vilmorinii | Pink Charm S | 15L |
| Sorbus | | Rosiness | 12L |
| Tillia | cordata | L                                              . | 15L |
| Toona | sinensis | Flamingo S | 12L |
| Trachelospermum | asiaticum | | 3L |
| WALNUT | | SEE JUGLANS | |