Christmas trees, wreaths, mistletoe, holly and outdoor cyclamen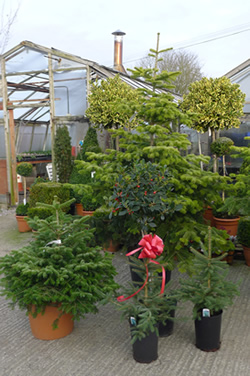 When Christmas is just around the corner our supplies of potted and cut trees arrive daily with a choice of Standard, Blue Spruce, and Nordman Firs (the ones that retain their needles better). You'll find a wide range of sizes too, from tabletop to 2 meters. If you need a taller one, we can put in a special order for you if you contact us by the very beginning of December. We also keep a good selection of 12" wreaths.
Our hardy outdoor cyclamens give a lovely splash of colour at this time of year – choose between the ornamentals which are perfect for tubs or hederifolium (ivy-leaved cyclamen) – great plants for self seeding in well drained areas.
If you're stuck for gifts, our gift vouchers make lovely presents and are available in denominations of £5, £10, £15 and £25. Or what about one of our perennials? Then when it comes into flower, you'll be remembered year after year!